»

Recipes

»

Brownie

»

Black Walnut Brownies
Black Walnut Brownies Recipe
Well, I am back to Black Walnut Brownies, they are my favorite after all. If you have a walnut tree at home or even if you have an access to one, you can very well try this all new Black Walnut Brownies recipe. Try it!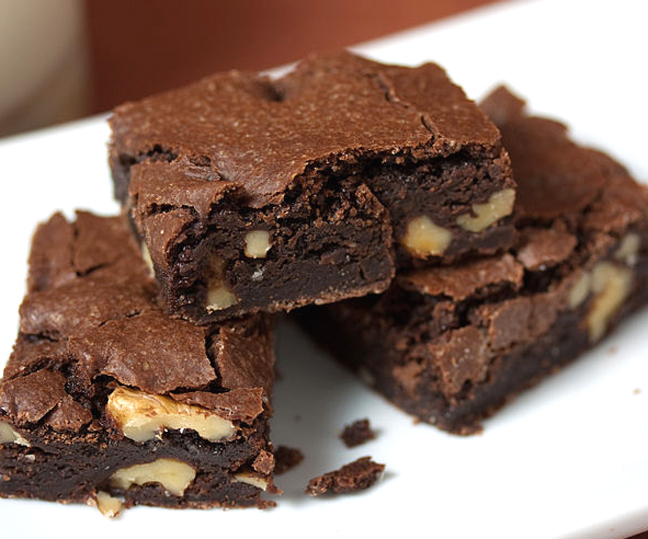 Ingredients
Butter/Margarine

1⁄2 Cup (8 tbs)

, softened

Sugar

1 Cup (16 tbs)

Eggs

2

, beaten

Vanilla extract

1 Teaspoon

Salt

1⁄4 Teaspoon

All purpose flour

2⁄3 Cup (10.67 tbs)

Unsweetened chocolate square

2 Ounce

, melted

Black walnuts

2⁄3 Cup (10.67 tbs)

, chopped
Nutrition Facts
Serving size: Complete recipe
Calories 2737 Calories from Fat 1476
% Daily Value*
Total Fat 171 g263.1%
Saturated Fat 81.6 g408%
Trans Fat 0 g
Cholesterol 664.9 mg
Sodium 653.9 mg27.2%
Total Carbohydrates 289 g96.2%
Dietary Fiber 16.2 g64.8%
Sugars 202.8 g
Protein 46 g91%
Vitamin A 66.5% Vitamin C 1.9%
Calcium 19.3% Iron 98.3%
*Based on a 2000 Calorie diet
Directions
Cream butter; gradually add sugar, beating at low speed of an electric mixer until light and fluffy.
Add eggs, vanilla, salt, and flour; mix well.
Stir in chocolate and nuts.
Pour into a greased 8-inch square baking pan.
Bake at 325° for 20 minutes or until done.
Cut into 2-inch squares.
Image Courtesy :
http://commons.wikimedia.org/wiki/File:Ultimate_Vegan_Brownies_with_walnuts,_mjune_2010.jpg