»

Recipes

»

Bean

»

Black Beans
Black Beans Recipe
Black Beans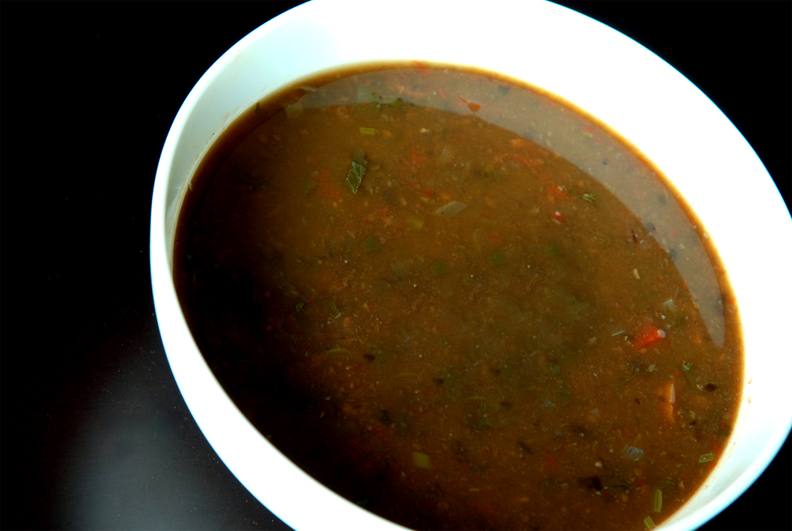 Ingredients
Water

4 Cup (64 tbs)

Black beans

1 Pound

, dried

Onion

1 Medium

, chopped

Vegetable oil

1⁄2 Cup (8 tbs)

Garlic

3 Clove (15 gm)

, minced

Bacon slices

2

, diced

Cumin

1 Teaspoon

Chili powder

1 Tablespoon

Cilantro

1⁄2 Cup (8 tbs)

, minced

Salt

1 Teaspoon
Nutrition Facts
Serving size: Complete recipe
Calories 2710 Calories from Fat 1073
% Daily Value*
Total Fat 122 g187.7%
Saturated Fat 17.2 g85.8%
Trans Fat 0 g
Cholesterol 3.4 mg
Sodium 2199.4 mg91.6%
Total Carbohydrates 318 g105.9%
Dietary Fiber 78.6 g314.6%
Sugars 19.8 g
Protein 105 g210%
Vitamin A 101.7% Vitamin C 53.7%
Calcium 72.8% Iron 161.6%
*Based on a 2000 Calorie diet
Directions
Mix water, beans and onion in a stockpot.
Cover and heatto boiling.
Boil about 2 minutes.
Remove from heat and let stand 1 hour.
Add just enough water to the beansto cover.
Stir in theoil, garlic, bacon, cumin, chili powder and cilantro.
Heatto boiling.
Reduce heat, cover and simmer until beans are very tender, about 2 hours.
Add the salt and mix well.
Drain and serve.