»

Recipes

»

Soup

»

Mexican Black Bean Soup
Mexican Black Bean Soup Recipe
Mexican Black Bean Soup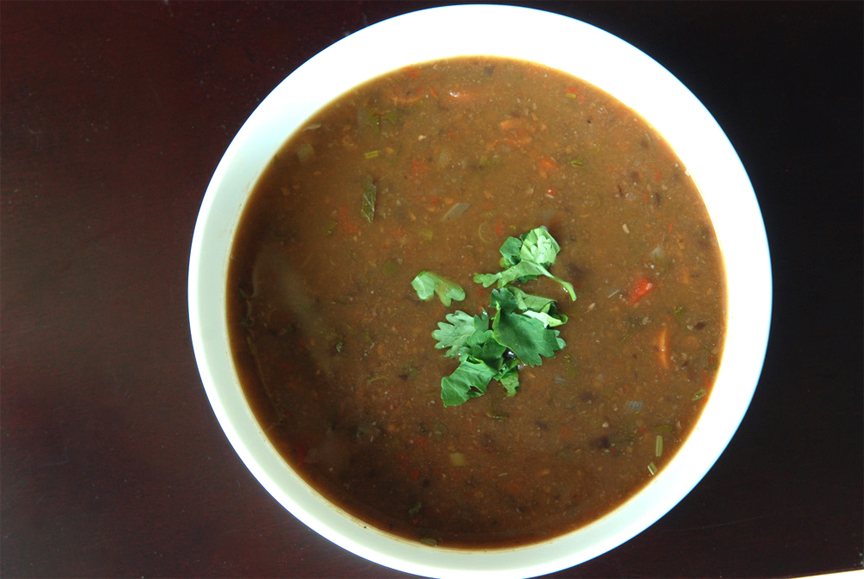 Ingredients
Dried black beans

1⁄2 Pound

, soaked overnight (1 Cup)

Green bell pepper/5 fresh new mexican green chiles

1⁄2

, roasted, peeled and chopped to make about 1/2 cup

Olive oil

2 Tablespoon

Onions

1 1⁄2 Large

, chopped

Garlic

2 Clove (10 gm)

, minced

Ham hock

3⁄4 Pound

Beef broth

4 Cup (64 tbs)

Ground cumin

1 1⁄2 Teaspoon

Dried oregano

1 1⁄2 Teaspoon

Dried thyme

1⁄4 Teaspoon

Bay leaf

1⁄2

Chopped pickled jalapeno pepper

1⁄4 Cup (4 tbs)

Dry sherry

1 Tablespoon

Salt

To Taste

Freshly ground black pepper

To Taste

Diced tomato

1⁄4 Cup (4 tbs)

Chopped scallions

1⁄4 Cup (4 tbs)

Sliced hard cooked eggs

1⁄4 Cup (4 tbs)

Sour cream

1⁄2 Cup (8 tbs)
Nutrition Facts
Serving size: Complete recipe
Calories 2558 Calories from Fat 1201
% Daily Value*
Total Fat 135 g207.3%
Saturated Fat 41.7 g208.4%
Trans Fat 0 g
Cholesterol 224.8 mg
Sodium 4285 mg178.5%
Total Carbohydrates 226 g75.4%
Dietary Fiber 49.2 g196.7%
Sugars 35.7 g
Protein 125 g249.7%
Vitamin A 43.5% Vitamin C 190.5%
Calcium 80.8% Iron 125.2%
*Based on a 2000 Calorie diet
Directions
Wash the beans and place them in a stockpot along with the bell pepper.
Add enough water to cover the beans, and soak them overnight.
Drain the beans.
Heat the oil in a heavy skillet, add the onion and garlic, and saute for 3 minutes over medium heat.
Combine the onion mixture, beans and ham hock in a large stockpot and cover them with the broth.
Raise the heat to just below boiling, then reduce the heat and simmer for 1 hour.
Add the herbs, jalapenos and sherry, and season with the salt and pepper.
Continue to cook for an additional 1 1/2 hours, or until the beans are done.
To thicken the soup, remove about 1/2 cup beans from the pot, mash them, and return them to the pot.
Stir well and adjust the seasonings to taste.
To serve, ladle the soup into bowls.
Garnish with the tomato, scallions, egg, and sour cream and serve immediately.