»

Recipes

»

Salad

»

Black Bean Salad
Black Bean Salad Recipe
Black Bean Salad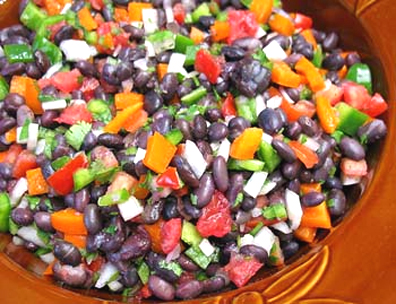 Ingredients
Dried black beans

1⁄2 Pound

, sorted of debris and rinsed

Water

2 Quart

Ground red pepper

1⁄2 Teaspoon

Red bell pepper

1

, stemmed, seeded, and finely chopped

Diagonally sliced green onions

1⁄2 Cup (8 tbs)

Red wine vinegar

2 Tablespoon

Lemon juice

1 Tablespoon

Chopped cilantro

1⁄4 Cup (4 tbs)

Salt

To Taste

Cilantro sprig

1
Nutrition Facts
Serving size: Complete recipe
Calories 852 Calories from Fat 35
% Daily Value*
Total Fat 4 g6.4%
Saturated Fat 0.95 g4.8%
Trans Fat 0 g
Cholesterol 0 mg
Sodium 440.9 mg18.4%
Total Carbohydrates 157 g52.3%
Dietary Fiber 41 g164.1%
Sugars 12.3 g
Protein 52 g104.5%
Vitamin A 171.9% Vitamin C 346.4%
Calcium 35.2% Iron 78.3%
*Based on a 2000 Calorie diet
Directions
In a 4- to 5-quart pan, combine beans, water, and 1/4 teaspoon of the ground red pepper; bring to a boil over high heat.
Reduce heat, cover, and simmer until beans are tender to bite (about 1 1/2 hours); drain.
Rinse until water runs clear and beans are cool (about 3 minutes).
Drain well.
In a large bowl, mix beans with bell pepper, green onions, vinegar, lemon juice, lemon peel, chopped cilantro, and remaining 1/4 teaspoon ground red pepper.
Season to taste with salt.
If made ahead, cover and refrigerate for up to a day.
Garnish with cilantro sprigs.