»

Recipes

»

Bean

»

BIG POT O' CHILI
BIG POT O' CHILI Recipe
Savory, hot chili – make it as spicy or as mild as you like. This one bulks up the veggies and uses turkey and very lean ground beef so it comes in at a low calorie count for a good sized portion. For 400 calories you can have a huge portion ! Try making this the next time you have a football party.
All the different tomato products used in this recipe have their own unique flavor and the combination of them is just perfect. But if you don't particularly like one or another, feel free to substitute.
Cook this stovetop for hours to get that deep, rich, long simmer flavor – or you can cook this in the crock pot all day long while you are at work. Chili also does well in a pressure cooker. If you need instructions, just write to me and I'll be happy to send you info.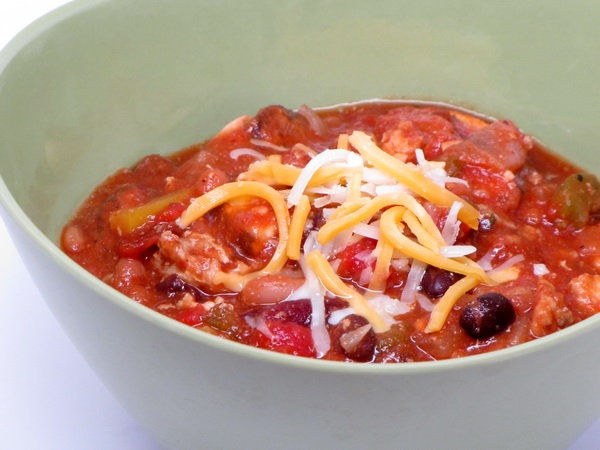 Ingredients
Oil

2 Tablespoon

Onion

1

, chopped

20 oz. lean ground turkey

16 oz. very lean ground beef

5 ribs of celery, sliced

Green pepper

1 To taste

, chopped

Yellow pepper

1 To taste

, chopped

Garlic

4 Tablespoon

, minced

Mushrooms

10 Ounce

, chopped

Chickpeas

15.5 Ounce

, drained, rinsed

Black beans

15.5 Ounce

, drained, rinsed

Kidney beans

15.5 Ounce

, drained, rinsed

Pork and beans

2 15.75 Ounce

28 oz. petite diced tomatoes

14.5 oz. fired roasted diced tomatoes

Stewed tomatoes

14.5 Ounce

Chipotle peppers in adobo sauce

3 Ounce

Tomato sauce

29 Ounce

Salt

1 Tablespoon

Pepper

1 Tablespoon

Garlic powder

2 Tablespoon

Onion powder

1 Tablespoon

Chili powder

5 Tablespoon

Cumin

3 Tablespoon

2 t basil flakes

Parsley flakes

2 Tablespoon

3 t oregano flakes

Salt

To Taste

Pepper

To Taste
Directions
Heat the oil in the bottom of a large dutch oven or soup pot. Saute onions, celery and green pepper and yellow pepper 15 minutes. Add the turkey and beef and continue cooking until meat is done. Be sure to break up meat into little pieces as it cooks. (if cooking in a crock pot, do this first step stove top in a skillet and then turn it all into a heated crock) Add garlic and mushrooms and stir. Add all spices and mix well. Bring to a boil them lower and simmer for 2-3 hours on a low heat. Stir occasionally and adjust spice during the last half hour of cooking. (if cooking in a crock pot, cook on low 8-10 hours or high 5-6 hours)
The leftovers freeze well – so don't be afraid of the huge serving size. You can also cut this in half and make 10 servings – just halve everything. Serve with low fat sour cream and low fat shredded cheddar as a garnish / topping.
* 210 calories per serving
This recipe is excerpted from the book
400 or Less - Holiday Recipes
by
Aileen Figula Kiter
. To purchase this book, please visit:
Amazon.Com