»

Recipes

»

Indian

»

Bhindi

»

Bhindi Chorchori
Bhindi Chorchori Recipe
My family loves this Bhindi Chorchori Recipe,because this is a very simple and easy vegetable recipe. Bhindi Chorchori is a very popular dish in India. It is generally eaten during Lunch. Bhindi Chorchori goes well with poori, but it can also be eaten with paratha. You should try this Bhindi Chorchori recipe.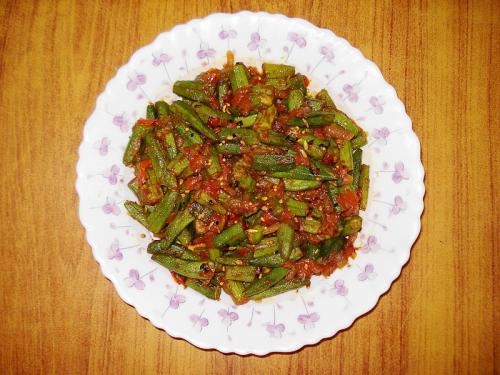 Ingredients
Okra

1⁄2 Pound

Turmeric powder

1⁄4 Teaspoon

Coriander powder

1⁄2 Teaspoon

Cumin powder

1⁄2 Teaspoon

Onion seeds

1⁄8 Teaspoon

Green chili

4

, slit

Sugar

1⁄4 Teaspoon

Salt

To Taste

Cilantro

4

, chopped

Cooking oil

2 Tablespoon
Nutrition Facts
Serving size
Calories 94 Calories from Fat 69
% Daily Value*
Total Fat 8 g12%
Saturated Fat 1.1 g5.5%
Trans Fat 0 g
Cholesterol 0.08 mg
Sodium 104.1 mg4.3%
Total Carbohydrates 6 g2%
Dietary Fiber 2.3 g9.4%
Sugars 1.6 g
Protein 1 g3%
Vitamin A 9.3% Vitamin C 61.6%
Calcium 5.7% Iron 5.6%
*Based on a 2000 Calorie diet
Directions
1. Slice off stem and tip of the okra. Slice each okra into four strips. For quick preparation you can use the frozen cut okras.

2. Heat oil. Add onion seeds and cook until spluttering stops.

3. Add okra. Stir fry for about five minutes. Add salt. Add all the masalas. Stir and cook for a couple of minutes. Add sugar.

4. Add half cup water (not required if using frozen okras). Add green chilies. Simmer over medium heat until cooked and the pan is nearly dry and oil has come to the surface. Serve hot with rice or roti.

Bhindi Chorchori is a very common and popular dish in Bihar. This is a very simple and easy recipe. Thanks for posting this......
Posted on:
8 January 2008 - 1:05pm