»

Recipes

»

Indian

»

Bhindi

»

Bharwan Bhindi By Chef Sonali
Bharwan bhindi by Chef Sonali Recipe
This is Sanjeev Kapoor's recipe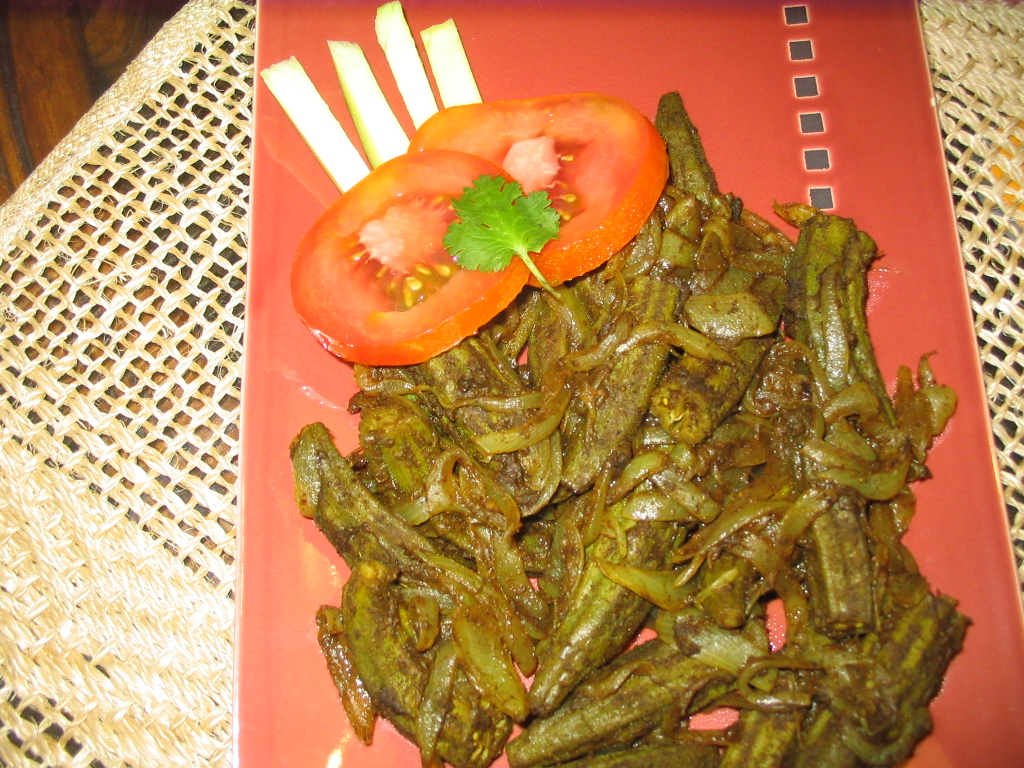 Recipe Story
It is a popular indian cuisine
Ingredients
Ladyfinger

500 Gram

(Okra)

Red chili powder

2 Tablespoon

Cumin powder

2 Tablespoon

Salt

To Taste

Coriander powder

2 Tablespoon

Amchur

2 Tablespoon

Turmeric powder

1 Teaspoon

Oil

2 Tablespoon

Onions

1 1⁄2 Cup (24 tbs)

, sliced thick
Nutrition Facts
Serving size
Calories 224 Calories from Fat 100
% Daily Value*
Total Fat 11 g17.4%
Saturated Fat 1.3 g6.5%
Trans Fat 0 g
Cholesterol 0 mg
Sodium 163.1 mg6.8%
Total Carbohydrates 30 g9.9%
Dietary Fiber 10.9 g43.8%
Sugars 9.1 g
Protein 6 g11.4%
Vitamin A 17.5% Vitamin C 63.3%
Calcium 21.4% Iron 26.5%
*Based on a 2000 Calorie diet
Directions
Clean, wash and wipe lady fingers absolutely dry. Remove half a centimeter from both ends. Slit and keep aside. Mix red chilli powder, coriander powder, cumin powder, dry mango powder, turmeric powder and salt. Stuff the lady fingers/okra with this masala. Keep the left-over masala separately. Heat oil in a kadai. Add sliced onions and cook for 1/2 a minute. Add stuffed lady fingers/okra. Cook covered on low heat. Stir occasionally. Add rest of the dry masala when lady finger/okra is almost cooked. Cook covered on low heat till lady fingersokra are fully cooked and tender.
Tips
Ensure that you do not add any water to this vegetable.

rdx astroiodo says :
looking good i tray it...........
Posted on:
2 June 2012 - 1:59am

Ysha says :
The amchoor (mango) in it sounds great - I usually use lime juice near the end for sour taste instead. Perhaps 'cause of my pitta, I rarely use chilis, leaning on a pinch only of cayenne, and love garlic cooked to sweetness in it - the onions sound good - though I have to avoid with my ayurvedic postpartum clients - that and the chiles. Hing works in small amounts to replace some of the grounding taste of the onions. Thanks for sharing this recipe!
Posted on:
4 February 2010 - 1:11pm

AVM says :
Looks very yummy.. my mouth is watering. I am having all the ingredients ready.Yday i tried for dry mango powder. I didnt get. Will soon get it and will make a try....
Posted on:
12 November 2009 - 1:14pm

it looks great but I was looking for a still drier recipe..any tips on how to make it more dry.. I love your masala combo!
Posted on:
8 August 2009 - 5:30am
your bhindi looks nice - maybe you and <a href="/shakti">shakti </a> should have a the "Best Bhindi Babes" cooking contest - she has posted a  <a href="/node/412">nice bhindi recipe</a>
Posted on:
30 May 2007 - 6:50pm

thanks khau_khan....yeah i saw Shakti's recipe
Posted on:
30 May 2007 - 10:29pm

Ya it looks spicy. Is that hot spices on top?
Posted on:
28 May 2007 - 1:08am

.
Posted on:
28 May 2007 - 4:18am

yes, the spices are cumin, turmeric, coriander, red chilli and dry mango powder
Posted on:
28 May 2007 - 4:17am

The Bhindi appears yummy and its presentation is cool. Red tomato and green corriander leaves are accentuating the visual appeal. I cook okara a lot because it is easy to make. I a gonna give it a shot but with only 1/2 tbsp chilli powder.
Posted on:
27 May 2007 - 6:00pm

thank you master2006 :)
Posted on:
28 May 2007 - 4:15am

yammi yammi recipe......i like bharwan bhindi very much. Infact in north India this recipe is very popular.
Posted on:
27 May 2007 - 1:40pm

thankyou Ganesh :)
Posted on:
28 May 2007 - 4:13am