»

Recipes

»

Indian

»

Bengali

»

Pressure Cooked Bhapa Doi
Pressure Cooked Bhapa Doi Recipe
My friends love this Bhapa Doi recipe. This is a traditional Bhapa Doi Recipe . Bhapa Doi is a creamy delicious Indian dish. Bhapa Doi is a steamed curd dish that is eaten as sweet dish. Bhapa Doi is extensively used during Dushera or Durga pooja in West Bengal (India). Try this Bhapa Doi recipe and enjoy.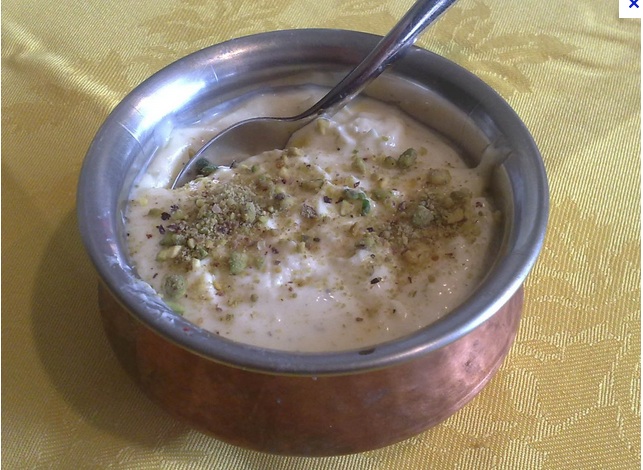 Summary
Preparation Time
5 Min
Cooking Time
15 Min
Ready In
20 Min
Difficulty Level
Very Easy
Health Index
Average
Servings
6
Ingredients
Pesta

10

, chopped

Yogurt

2 Pound

Condensed milk

1 Can (10 oz)

Raisins

2 Tablespoon

Cashew nut

15

, chopped
Nutrition Facts
Serving size
Calories 462 Calories from Fat 215
% Daily Value*
Total Fat 25 g38.8%
Saturated Fat 8.2 g41.1%
Trans Fat 0 g
Cholesterol 35.7 mg
Sodium 132.7 mg5.5%
Total Carbohydrates 48 g16%
Dietary Fiber 2.6 g10.2%
Sugars 38.2 g
Protein 16 g32.4%
Vitamin A 7.4% Vitamin C 5.1%
Calcium 34.5% Iron 12.7%
*Based on a 2000 Calorie diet
Directions
1. Pour yogurt in a cloth. Squeeze out water. Tie the cloth and hang for one hour.

2. Mix condensed milk, yogurt and raisins in a bowl which has a tight cover.

3. In a pressure cooker add one cup water. Put the bowl with the condensed milk and yogurt mixture. Ensure the cover of the bowl is tightly fixed.

4. Put the pressure cooker over a burner and heat for about ten minutes.

5. Remove from heat. Add pesta and cashew nut. Cool and refrigerate and serve.