»

Recipes

»

American

»

Cioppino

»

Best Italian Cioppino
Best Italian Cioppino Recipe
This Best Italian Cioppino recipe is my favorite. This is a traditional recipe. I am a professional chef and my friends really enjoy the dish I cook. Whenever there is a gathering of my friends at my home, most of the time they ask me to cook this delicious dish. You should try this Best Italian Cioppino recipe.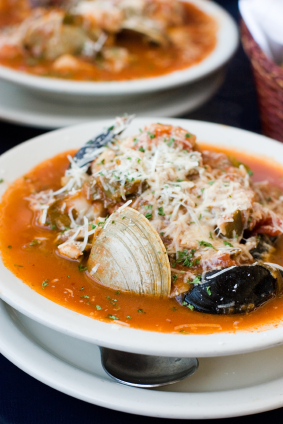 Ingredients
Olive oil

1⁄6 Cup (2.67 tbs)

Garlic

2 Clove (10 gm)

Onion

1 Cup (16 tbs)

, finley chopped

Chopped onion

1 Cup (16 tbs)

(chopped finely)

Dry white wine

1⁄2 Cup (8 tbs)

Clam juice

1⁄2 Cup (8 tbs)

Italian plum tomatoes

1⁄2 Can (5 oz)

, chopped (canned, drained, seeded)

Italian tomatoes

1⁄2 Can (5 oz)

, chopped

Basil

1⁄4 Cup (4 tbs)

, chopped

Chopped basil

1⁄4 Cup (4 tbs)

(fresh)

Salt

1 Teaspoon

Red pepper flakes

1⁄4 Teaspoon

Dried thyme

1⁄4 Teaspoon

Mussels

12

, cleaned

Shrimp

1⁄4 Pound

, cleaned

Cod

1⁄2 Pound

, cut up large chunks

Cut up

1⁄2 Pound

Balsamic vinegar

1⁄2 Tablespoon

Linguine

1 1⁄2 Pound
Nutrition Facts
Serving size
Calories 992 Calories from Fat 116
% Daily Value*
Total Fat 15 g23.2%
Saturated Fat 2.6 g13.2%
Trans Fat 0 g
Cholesterol 155.3 mg
Sodium 1215.3 mg50.6%
Total Carbohydrates 153 g51%
Dietary Fiber 10.2 g40.8%
Sugars 43.6 g
Protein 55 g110.8%
Vitamin A 18% Vitamin C 40.6%
Calcium 21.1% Iron 59.3%
*Based on a 2000 Calorie diet
Directions
Step1-In Dutch oven heat oil over medium heat.

Step2-Add garlic and onions and saute, stirring frequently until translucent, about 08 minutes.

Step3-Add wine and cook until reduced by half. Add clam juice and can of tomatoes. Cook uncovered 30 minutes.

Step4- Stir in basil, salt, thyme and red pepper flakes. Add mussels; cover and simmer until shells open, 1 minute.

Step5-Stir in shrimp and cod; cover and simmer until opaque about 4 minutes.

Step6- Stir in vinegar. Serve over linguini.

Love Cioppino! There is also Soupa de Pesce that is similiar and popular in Italy. We often make a Cioppino as the number one ingredient is Dungeness Crab which is our Pacific local crab. Dungeness is found in the Pacific Ocean from north in the Aleutian Islands in Alaska to Santa Cruz, California which is about 45 miles south of San Francisco. We can buy the crabs live in tanks from Asian markets or fully cooked at all markets. The mea is sweet and moist. The body contains so much meat and is great for mking crab cakes. The leg and claw meat is gorgeous morsels. Dungeness crab can be as large as 10 inches across. These huge crabs are mainly found off the Washingtn Coast. Our local SF crabs are more in the 7" to 8" category. That measurement is the body shell not including the legs. Now Cioppino is not exactly from Italy-----It was developed in the late 1800s by Italian fishermen who settled in the North Beach section of San Francisco which is still Italian however China town is crowding it out. Many local American-Italian clubs have a crab feed each year to raise money for charity. The first Cioppino was made on the fishing boats by the Italian fisherman from the days catch of crab, shellfish and fish. Soon several SF restaurants started serving this amazing flavoured soup. The name comes from ciuppin, a word in the Ligurian dialect of the port city of Genoa, which described the local fish stew. The accepted local story in which the name derived from the heavily Italian-accented cry of the wharf cooks for the fishermen to "chip in" some of their catch to the collective soup pot. Cioppino is often served in a hallowed out round loaf of San Francisco Surdough bread. Shanti/Mary-Anne
Posted on:
6 February 2008 - 1:56pm

Cioppino ...a very interesting recipe with delicious picture of Italian Cioppino. I once heard that Cioppino is a fish stew derived from the various regional fish soups and stews of Italian cuisine. Thanks for posting this interesting Best Italian Cioppino recipe.
Posted on:
6 February 2008 - 7:59am