»

Recipes

»

Italian

»

Tiramisu

»

Best Ever Tiramisu
Best Ever Tiramisu Recipe
Tiramisu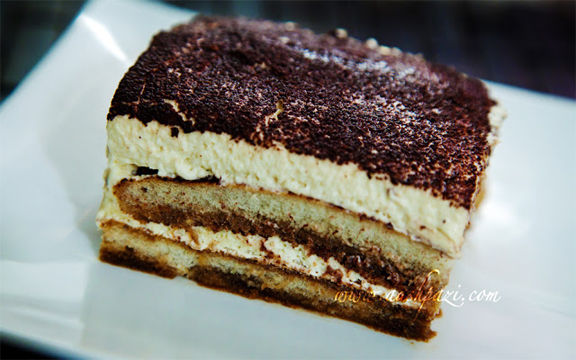 Ingredients
Double cream

568 Milliliter

Mascarpone

250 Gram

(Tub)

Marsala

2 1⁄2 Fluid Ounce

(75 Milliliter)

Golden caster sugar

5 Tablespoon

Strong coffee

1⁄2 Pint

(300 Milliliter, Made With 2 Tablespoon Coffee Granules And 300 Ml Boiling Water)

Sponge fingers

175 Gram

Dark chocolate chunks

1 Ounce

(25 Gram)

Cocoa powder

2 Teaspoon
Nutrition Facts
Serving size
Calories 620 Calories from Fat 474
% Daily Value*
Total Fat 53 g81.2%
Saturated Fat 8.8 g44%
Trans Fat 0 g
Cholesterol 40 mg
Sodium 101.9 mg4.2%
Total Carbohydrates 30 g10.2%
Dietary Fiber 0.66 g2.7%
Sugars 18 g
Protein 6 g12%
Vitamin A 7.8% Vitamin C
Calcium 3.7% Iron 2.5%
*Based on a 2000 Calorie diet
Directions
MAKING
1) Take a large bowl. Add in the cream, mascarpone, Marsala and sugar.
2) Using a hand blender, whisk the cream and mascarpone to make a nicely thick whipped cream.
3) In a shallow dish, Add in the coffee and dip in a few sponge fingers at a time. Stir for a few seconds until they are nicely soaked, but not drippy and soggy.
4) Take a serving dish. Layer this mixture into the dish until you have used half the biscuits. Then spread half of the whipped cream over it.
5) Take a grater. Use the coarser side of the grater and grate most of the chocolate over the creamy layer.
6) Repeat the process and make some more layers till you have used up all the coffee. Finish the dish by topping the layer

FINALIZING
7) Cover the dish and chill in the fridge for a few hours or overnight. You can store the Tiramisu in the fridge for up to 2 days.

SERVING
8) Dust a little cocoa powder and grate the remaining chocolate and serve in individual plates.