»

Recipes

»

Bran

»

Best Ever Bran Muffins
Best Ever Bran Muffins Recipe
Best Ever Bran Muffins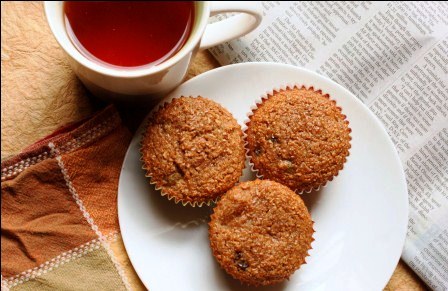 Ingredients
Butter/Margarine

1 Cup (16 tbs)

Brown sugar

1 Cup (16 tbs)

Molasses

2 Tablespoon

Salt

1⁄4 Teaspoon

Natural bran

1 1⁄4 Cup (20 tbs)

Bran

1 1⁄4 Cup (20 tbs)

Wheat germ

1⁄4 Cup (4 tbs)

Baking powder

2 Teaspoon

All purpose flour

2 3⁄4 Cup (44 tbs)

(Not Sifted)

Raisins

1 1⁄2 Cup (24 tbs)

Sour milk/Buttermilk - 2 cups

2 Cup (32 tbs)

Soda

2 Teaspoon

Eggs

2

, well beaten
Nutrition Facts
Serving size
Calories 1481 Calories from Fat 525
% Daily Value*
Total Fat 60 g92.1%
Saturated Fat 34.5 g172.3%
Trans Fat 0 g
Cholesterol 226.7 mg
Sodium 1178.8 mg49.1%
Total Carbohydrates 232 g77.3%
Dietary Fiber 14.8 g59.3%
Sugars 110.2 g
Protein 36 g72.3%
Vitamin A 30.6% Vitamin C 3.8%
Calcium 65.8% Iron 55.5%
*Based on a 2000 Calorie diet
Directions
GETTING READY
1) Preheat the oven to 375°F.

MAKING
2) Cream butter and sugar together.
3) Add molasses, salt, bran, wheat germ and flour sifted with baking powder.
4) Stir in raisins.
5) Stir soda into sour milk, and then add to dry ingredients, stirring only until combined.
6) Fold in beaten eggs and spoon into greased muffin tins.
7) Bake at 375°F for 15-20 minutes.
8) Let cool 5 minutes before removing from pans.

SERVING
9) Make sure the muffins are well baked by inserting a fork. If the fork comes out clean then it is done.
10) Serve cold as part of the menu.