»

Recipes

»

Indian

»

Aloo

»

Bengali Potatoes With Spices- Bengali Aloo
Bengali Potatoes with Spices- Bengali Aloo Recipe
The potato is called the "king of vegetables" in India and in my kitchen it rules. Potato dishes are loved by everyone, and they go with everything. If you love potatoes every which way, you will love this exotically spiced but simple dish. For this recipe I like to use a coarsely ground mixture of the Panch Phoran Spice mixture which gives a texture and a crunch to the dish. If you do not have the time to make this spice blend simply use an equal amount of Garam Masala Day-old boiled potatoes work very well for this dish. Serve this as side dish with Masala Lamb Chops Roast Leg of Lamb or Tandoori Spiced Pork Tenderloin .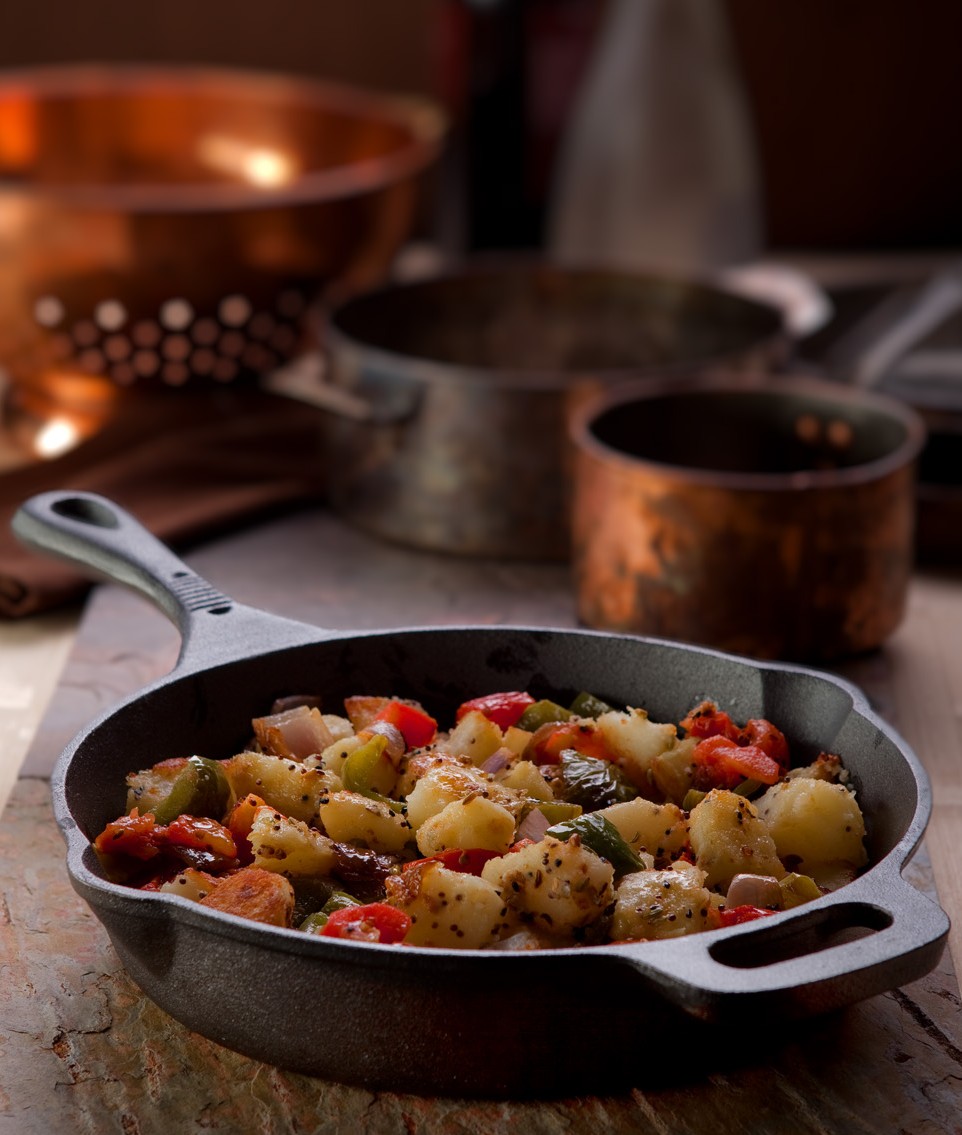 Ingredients
Potatoes

2 Pound

(3 Large Pieces, 1 Kilogram)

Oil

4 Tablespoon

Onion

1⁄3 Pound

, cut into ¾ inch dice (150 Gram, 1 Piece)

Green bell pepper

1

, cut into ¾ inch dice to make about 1 cup/175 gram

Tomato

1

, diced

Salt

1 Teaspoon

Ground panch phoran mix

2 Tablespoon

Minced coriander leaves

4 Tablespoon

(Cilantro)
Nutrition Facts
Serving size
Calories 239 Calories from Fat 95
% Daily Value*
Total Fat 11 g16.5%
Saturated Fat 1.5 g7.5%
Trans Fat 0 g
Cholesterol 0 mg
Sodium 343.3 mg14.3%
Total Carbohydrates 36 g12%
Dietary Fiber 5.8 g23.1%
Sugars 3.5 g
Protein 4 g8.5%
Vitamin A 19.4% Vitamin C 98.4%
Calcium 6.8% Iron 10.6%
*Based on a 2000 Calorie diet
Directions
1. In a large saucepan, combine the potatoes with enough cold water to cover them. Bring to a boil over high heat and cook, uncovered, until tender, about 15 to 20 minutes. Drain well and set aside to cool. Peel the potatoes and cut into ¾-inch (2-cm) dice. Set aside
2. Heat the oil in a nonstick skillet over medium heat. When hot, add the onion and pepper and cook, stirring frequently, until they are slightly cooked, 2 to 3 minutes. Add the tomato, salt and the Panch Phoran Mix and cook for another minute. Add the diced potatoes and stir them around for about 1 minute to allow the flavors to mix. Taste for seasoning and sprinkle on more salt if needed. Cook for another 3 minutes or so to let the potatoes heat through. Sprinkle on the coriander leaves, mix in, and serve.
This recipe has been excerpted from
My Indian Kitchen
. To purchase the book, visit
Amazon.Com
.