»

Recipes

»

Roll

»

Cutlet

»

Beetroot Cutlets
Beetroot cutlets Recipe
One of the easy to make and tasty cutlets.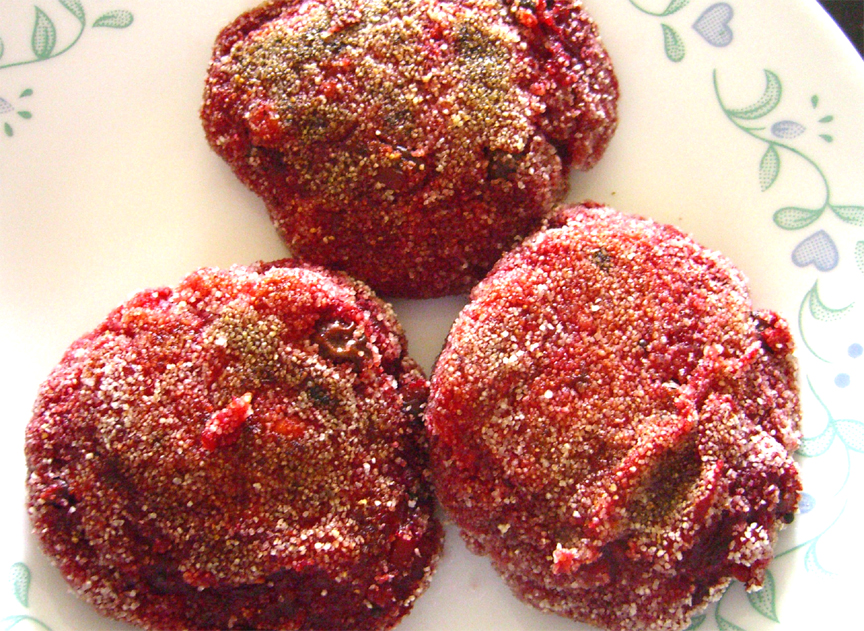 Ingredients
Beetroot

1 Large

, washed, grated (peeled)

Green peas/Frozen green peas

1⁄2 Cup (8 tbs)

(fresh)

Green chillies

5

, slit

Fine rava/Fine semolina

1⁄2 Cup (8 tbs)

Chana dal

1 Tablespoon

Urad dal

1 Teaspoon

Boiled potatoes

4

, grated

Red chilli

1

Mustard seeds

1⁄2 Teaspoon

Garlic

1 Clove (5 gm)

, crushed

Oil

4 Tablespoon

Salt

To Taste

Bread crumbs

2 Tablespoon
Nutrition Facts
Serving size
Calories 567 Calories from Fat 145
% Daily Value*
Total Fat 17 g25.4%
Saturated Fat 2.2 g11%
Trans Fat 0 g
Cholesterol 0 mg
Sodium 358.3 mg14.9%
Total Carbohydrates 92 g30.5%
Dietary Fiber 17.2 g68.7%
Sugars 17.8 g
Protein 17 g33.7%
Vitamin A 8.2% Vitamin C 106.4%
Calcium 17% Iron 89.5%
*Based on a 2000 Calorie diet
Directions
1. Heat 2 tbsp oil in a pan and add mustard seeds. When they splutter add chanadal and fry till golden.
2. Now add the urad dal and garlic, red chilli, green chilli and fry for a few seconds.
3. Add beetroot and green peas and cook on a medium flame till all the water evaporates and beetroot is cooked.
4. Allow it to cool. Remove all the chillies.
5. Add grated potatoes and bread crumbs and salt to taste and mix it well.
6. Refrigerate for about 1/2 an hour. (It prevents the mixture from sticking to your hands)
7.Make small balls from the beetroot mixture and flatten it with your hands. Coat it well with rava on both the sides.
8. Heat the tawa and fry the cutlets by applying little oil on both sides till crispy.
9. Serve hot with any chutney or sauce.

kav says :
hI Sarita, is this recipe similar to the cutlets served in Diana, Udupi. i hope it is, because i have always wanted to make those. I had cutlets in Diana recently, but somehow, they did not taste like the ones i used to have since my childhood. But the recipe you have posted does appears to be the one i have always loved. I am going to try this today. I will sure give you a feed back. Thank you.
Posted on:
17 November 2009 - 10:29am

chip says :
This is exactly like the one's at udipi!!! I love this recipe... Great!!
Posted on:
10 April 2010 - 8:57pm