»

Recipes

»

Salad

»

Beet And Carrot Salad
Beet and Carrot Salad Recipe
The beet and carrot salad is a classic salad. It is a combination of wonderful ingredients like beets, carrots. A healthy side dish, this salad is truly refreshing. Enjoy a wonderful culinary adventure that is sure to have a delicious ending.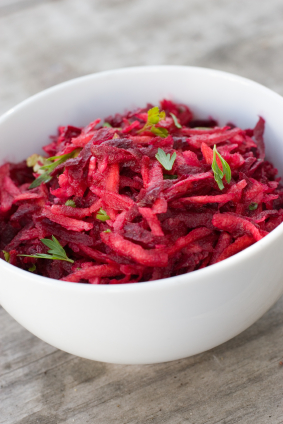 Ingredients
Cut beets/Whole beets

1 Can (10 oz)

Carrots

5

(Cooked)

Celery stalks

1⁄2 Cup (8 tbs)

, cut fine

Chopped onion

2 Teaspoon

Vinegar

2 Tablespoon

Sugar

3 Tablespoon

Mayonnaise

1 Tablespoon

Parsley

1 Tablespoon

Salt

To Taste

Pepper

To Taste
Nutrition Facts
Serving size
Calories 111 Calories from Fat 24
% Daily Value*
Total Fat 3 g4.1%
Saturated Fat 0.26 g1.3%
Trans Fat 0 g
Cholesterol 2.1 mg
Sodium 191 mg8%
Total Carbohydrates 21 g7%
Dietary Fiber 3.6 g14.5%
Sugars 16.1 g
Protein 2 g3.4%
Vitamin A 210.3% Vitamin C 18.1%
Calcium 3.9% Iron 4.7%
*Based on a 2000 Calorie diet
Directions
Stage1-Dice beets and put into a saucepan with the beet liquid from the can.

Stage2-Add the vinegar and sugar.

Stage3-Cook for a few minutes. Cool mixture so beets will marinate in the sweet sour liquid. Then drain off liquid.

Stage4-To the beets, add diced cooked carrots, chopped celery, onion, salt, and enough mayonnaise to mix together. (Half the mayonnaise and half the French dressing give a good blend for the mixture.) Serve on lettuce.