»

Recipes

»

Beer

»

Beer Marinade
Beer Marinade Recipe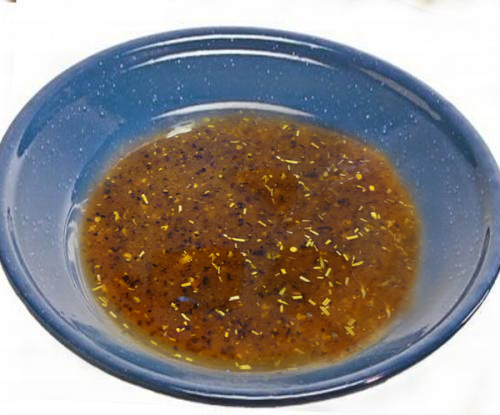 Ingredients
Stout

16 Fluid Ounce

(480 milliliter)

Vinegar

45 Milliliter

(3 tablespoon)

Ground ginger

1 Teaspoon

Dry mustard

1 Teaspoon

Ground mace/Nutmeg

1⁄2 Teaspoon

Ground allspice

1 Teaspoon

Ground cloves

1⁄2 Teaspoon

Sugar

15 Milliliter

(1 tablespoon)

Garlic

1 Clove (5 gm)

, crushed

Onion

1 Medium

, sliced

Carrot

1

, sliced

Salt

1 Teaspoon

Oil

2 Fluid Ounce

(60 milliliter)
Nutrition Facts
Serving size: Complete recipe
Calories 939 Calories from Fat 543
% Daily Value*
Total Fat 62 g95.3%
Saturated Fat 8.4 g42%
Trans Fat 0 g
Cholesterol 0 mg
Sodium 2003.6 mg83.5%
Total Carbohydrates 66 g22%
Dietary Fiber 8.4 g33.8%
Sugars 41.1 g
Protein 5 g9.9%
Vitamin A 205.2% Vitamin C 42.2%
Calcium 14.4% Iron 12.9%
*Based on a 2000 Calorie diet
Directions
MAKING
1 In a saucepan, add all the ingredients.
2 Bring to a boil.
3 Let simmer for 5 minutes, this will let the flavours blend.
4 Allow to cool before using.

SERVING
5 In a deep bowl, put a large piece of beef, and pour over the marinade.
6 Or coat the small pieces of the meat with the marinade.
7 Allow to marinate in the refrigerator for 12 hours (for small pieces) or up to 2 days (for a large piece).
8 Baste the beef with the marinade while cooking.