»

Recipes

»

Ham

»

Beer Baked Ham
Beer Baked Ham Recipe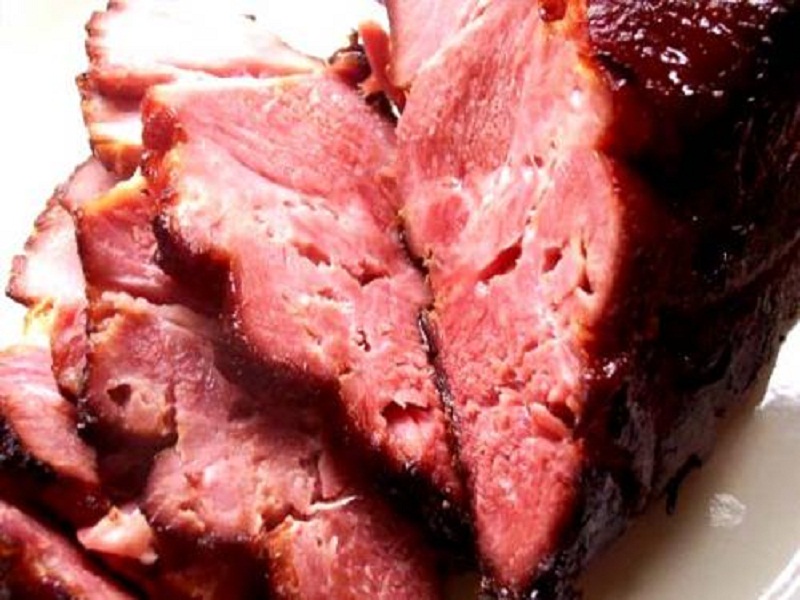 Ingredients
Canned KRAKUS/ ATALANTA/POLKA Polish Ham - 1 (13-pound)

Whole cloves - to stud

Dry mustard

2 Teaspoon

Molasses

1/2 Cup (16 tbs)

Beer

2 Cup (16 tbs)

Pepper

1 Teaspoon

Cornstarch

2 1/2 Tablespoon

Wine vinegar

2 Tablespoon

Ground ginger

1/4 Cup (16 tbs)

Plumped raisins - 3/4 cup

Peach

1 Can (10oz)
Directions
GETTING READY
1. Preheat the oven to 350°F
2. Remove top from can of ham.

MAKING
3. Place in heated oven and allow the gelatin to soften.
4. Remove from oven and invert the can on a rack in a baking pan.
5. Increase oven temperature to 400 degrees F
6. Turn out the ham, punching holes in bottom of can, if necessary. Discard the drippings.
7. Slash the surface with shallow diagonal cuts, in a diamond pattern.
8. Stud center of the diamonds with whole cloves.
9. Make a paste of mustard and molasses and rub some of it all over the ham.
10. Combine the remaining mustard paste with beer and pepper.
11. Pour it over the ham.
12. Cover pan with foil and place in the oven.
13. Cook ham allowing 20 minutes per pound of ham and an extra 10 minutes without the foil.
14. Let the ham rest before transferring it from the pan onto a serving platter.

FINALIZING
15. Strain the pan liquid into a saucepan.
16. Blend cornstarch in wine vinegar and stir into the juice.
17. Stir in the ginger.
18. Heat until thick and reduced.
19. Stir in the raisins and the peach.

SERVING
13. Slice ham and serve with the sauce.