»

Recipes

»

European

»

Russian
Beef Stroganoff Recipe
You'll simply love this Beef Stroganoff recipe. A deadly combination of beef and noodles; I bet, you would love to prepare this recipe again and again.
Beef Stroganoff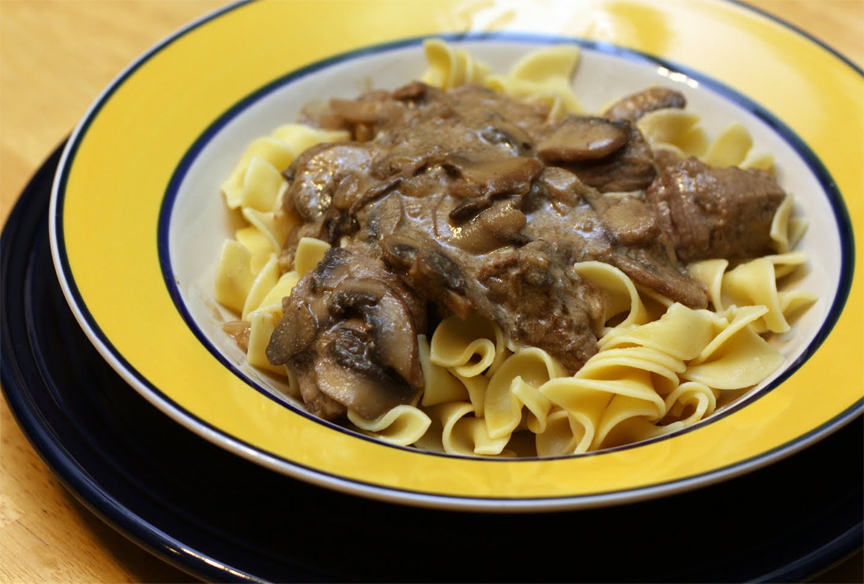 Ingredients
3 lb. beef round steak, 1/2 inch thick

Flour

1/2 Cup (16 tbs)

Salt

2 Teaspoon

Pepper

1/8 Teaspoon

Dry mustard

1/2 Teaspoon

Onions

2 Medium

, separated into rings

Sliced mushrooms

2 Can (10oz)

, drained

Beef broth

1 Can (10oz)

, condensed

Dry white wine

1/4 Cup (16 tbs)

Sour cream

1 1/2 Cup (16 tbs)

Flour

1/4 Cup (16 tbs)

Hot buttered noodles or fluffy rice

Minced parsley

3 Tablespoon
Directions
Trim all excess fat from steak and cut meat into 3 inch strips about 1/2 inch wide.
Combine 1/2 cup flour, the salt, pepper and dry mustard; toss with steak strips to coat thoroughly.
Place coated steak strips in crock pot; stir in onion rings and mushrooms.
Add beef broth and wine; stir well.
Cover and cook on low setting for 8 to 10 hours.
Serve over pasta.