»

Recipes

»

Italian

»

Beef Roll Italian Style
Beef Roll Italian Style Recipe
This Beef Roll Italian Style is an easy-to-prepare recipe. An amazingly delicious beef recipe, Beef Roll is a dish that you would surely love to talk about with us!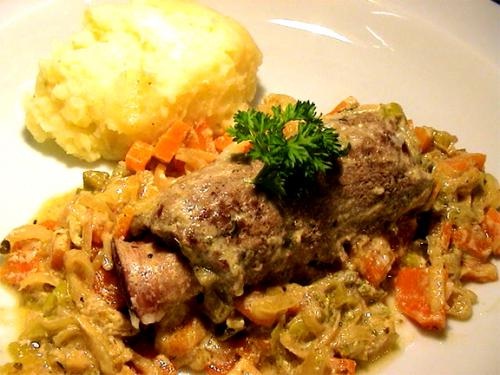 Ingredients
2 pounds top round, butterflied

Dijon style Mustard

3 Tablespoon

2 or 3 Italian sausages

1 bunch, green onions chopped

Butter/Margarine

2 Teaspoon

Spinach

1 Bunch (100gm)

, finely chopped

Garlic

2 Clove (5gm)

, minced

Parsley

2 Tablespoon

, chopped

Chopped basil

1 Tablespoon

, dried

Egg

1

Salt

1/2 Teaspoon

Parmesan and romano cheese

1/3 Cup (16 tbs)

, shredded

Onion

1 Medium

, finley chopped

1 carrot peeled and chopped

Dry white wine

1/4 Cup (16 tbs)
Directions
Lay open the steak on a board, cover with a sheet of waxed paper, and pound lightly until of even thickness.
Spread with mustard.
Place sausage in a saucepan, cover with water, bring to a boil, and simmer very gently for 15 minutes; drain.
Using a large frying pan, saute green onions in 1 teaspoon of the butter until limp.
Add spinach and cook until barely wilted.
Turn into a bowl.
Mix in garlic, parsley, basil, egg, salt, and cheese.
Spread the spinach filling over the mustard coated meat.
Lay sausages in a ribbon down the center.
Roll up and tie with a string.
Place on a baking pan.
Meanwhile saute onion and carrot in remaining butter until glazed and spoon around the meat roll.
Bake in a 425° oven for 20 minutes.
Pour wine into pan and continue baking 5 to 10 minutes longer, or until steak is browned but still slightly pink inside.
Cut into 1 inch slices and spoon vegetable sauce alongside.
Contains about 330 calories per serving.