»

Recipes

»

Mexican

»

Fajita

»

Beef Fajita
Beef Fajita Recipe
Forget the wrap and serve beef fajitas in a bowl. Tortilla strips make a tasty topper!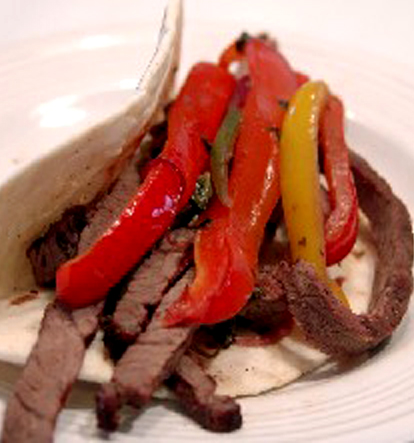 Ingredients
Uncooked regular long grain rice

1 Cup (16 tbs)

Uncooked regular long-grain rice

1 Cup (16 tbs)

Boneless beef sirloin steak

1 Pound

Vegetable oil

2 Tablespoon

Flour tortilla

1

, cut into 4x1/2-inch strips (Old El Paso®)

Frozen stir fry bell peppers and onions

1 Pound

Frozen whole kernel corn

1⁄2 Cup (8 tbs)

(Green Giant® Niblets®)

Thick 'n chunky salsa

1 Cup (16 tbs)

(Old El Paso®)

Lime juice

2 Tablespoon

Chili sauce

2 Tablespoon

Ground cumin

1⁄2 Teaspoon

Chopped cilantro

2 Tablespoon

(fresh)
Nutrition Facts
Serving size
Calories 774 Calories from Fat 153
% Daily Value*
Total Fat 17 g26.4%
Saturated Fat 1.2 g6.2%
Trans Fat 0 g
Cholesterol 0 mg
Sodium 444.5 mg18.5%
Total Carbohydrates 113 g37.6%
Dietary Fiber 6.1 g24.3%
Sugars 8.6 g
Protein 35 g69.6%
Vitamin A 45.8% Vitamin C 26.1%
Calcium 10.1% Iron 11.5%
*Based on a 2000 Calorie diet
Directions
1. Cook rice as directed on package.
2. Meanwhile, cut beef with grain into 2-inch strips; cut strips across grain into 1/8-inch slices.
3. Heat 12-inch nonstick skillet over medium-high heat. Add oil; rotate skillet to coat bottom. Cook tortilla strips in oil 1 to 2 minutes on each side, adding additional oil if necessary, until golden brown and crisp. Drain on paper towel.
4. Add beef to skillet; cook and stir over medium-high heat 4 to 5 minutes or until beef is no longer pink. Remove from skillet.
5. Add bell pepper mixture and corn to skillet; cook and stir 1 minute. Cover and cook 2 to 3 minutes, stirring twice, until crisp-tender. Stir in beef, salsa, lime juice, chili sauce and cumin. Cook 2 to 3 minutes, stirring occasionally, until hot. Stir in cilantro. Divide rice among bowls. Top with beef mixture and tortilla strips.