»

Recipes

»

Curry
Beef Curry Recipe
Beef Curry is a delicious main dish that is a regular in my house. Beef being my favorite meat, i prepare it in different ways. This is a lip-smacking recipe, which goes great with steamed hot rice! Ensure the meat is cooked through and the flavors well-absorbed.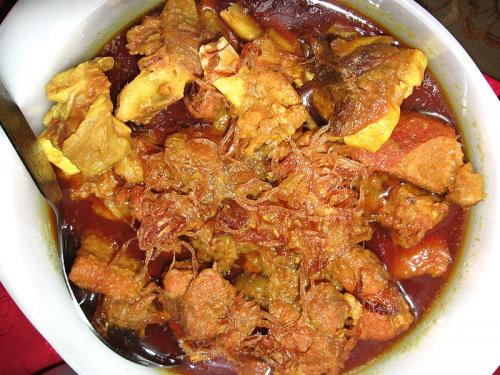 Ingredients
Beef round

1 Pound

Flour

1 Tablespoon

Salt

1 Teaspoon

Pepper

1/8 Teaspoon

Oil

1/4 Cup (16 tbs)

Onions

2 Cup (16 tbs)

, sliced

Garlic

1/2 Clove (5gm)

, minced

Bouillon cube

1

(Curry powder - 1 tsp.)

Boiling water

1 Cup (16 tbs)

(Curry powder - 1 tsp.)

Tomato juice

1/2 Cup (16 tbs)

(Curry powder - 1 tsp.)
Directions
MAKING
1) Cut the beef into small cubes.
2) Combine the flour, salt, and pepper.
3) Coat the beef in seasoned flour.
4) In a skillet, heat 2 tablespoons oil.
5) Add in the beef and brown well on all sides.
6) Add in the remaining oil, onions, and garlic.
7) Cook till onions wilt.
8) Add in the curry powder.
9) Add in the bouillon cube and water.
10) Simmer till the beef cubes are tender.
11) Add in the tomato juice and heat well.

SERVING
12) Serve over hot steamed rice.