»

Recipes

»

French

»

Bouillon

»

Beef Stock Or Bouillon
Beef Stock Or Bouillon Recipe
Beef Stock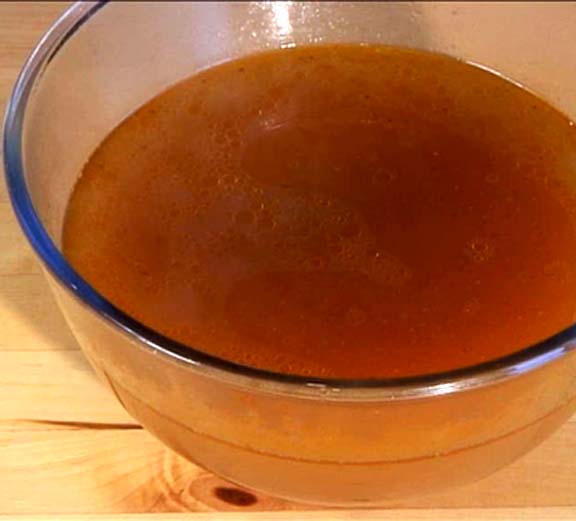 Ingredients
Beef shin

3 Pound

Bone marrow

2

Beef chuck

3 Pound

, cut into thirds

Water

2 Cup (32 tbs)

Salt

1 1⁄2 Tablespoon

Peppercorns

6

Onion

1 Large

(Either Peeled Or Unpeeled)

Leek/2 small leeks

1 Large

Bay leaf

1

Thyme

1⁄2 Teaspoon

Carrots

2

, washed and trimmed

Parsley sprigs

2

Celery stalks

2
Nutrition Facts
Serving size: Complete recipe
Calories 3829 Calories from Fat 2228
% Daily Value*
Total Fat 250 g384.8%
Saturated Fat 99.4 g497.1%
Trans Fat 0 g
Cholesterol 902.4 mg
Sodium 9784.3 mg407.7%
Total Carbohydrates 105 g35%
Dietary Fiber 21.6 g86.6%
Sugars 59.9 g
Protein 280 g559.2%
Vitamin A 482.5% Vitamin C 386%
Calcium 78.8% Iron 178.2%
*Based on a 2000 Calorie diet
Directions
1. Remove the meat from the shinbone and reserve. Place the shinbone and marrow bones in boiling water, cook five minutes and drain well.
2. Place the bones and all the meat including the trimmings in a large kettle. Add three quarts of water. Bring to a rolling boil and reduce the heat. Skim the surface to remove the foam and fat. Continue skimming until the foam ceases to rise.
3. Add the salt, peppercorns and onion. Trim the leek and split down the center toward the root without cutting through. Wash well under cold running water. Place the bay leaf in the center of the leek and sprinkle with thyme. Tie the cut portion with string and add to the simmering liquid. Add the carrots, parsley, celery and turnip.
4. Cover loosely and simmer gently four or five hours.
5. Strain the liquid through a double thickness of cheesecloth. (The meat may be used for hash.) Taste the stock and, if a greater concentration is desired, simmer uncovered until it reaches the desired flavor.
6. Cool quickly by placing the kettle in cold water. Chill until the fat solidifies. Skim off the fat.