»

Recipes

»

American

»

Beef Stew Milanese
Beef Stew Milanese Recipe
This Beef Stew Milanese is a delicious beef gravy dish with parsley and basil seasonings. Try this stewed meat with mixed vegetables for your next meal. If you want to know more about this Beef Stew Milanese let me know.
Beef Stew Milanese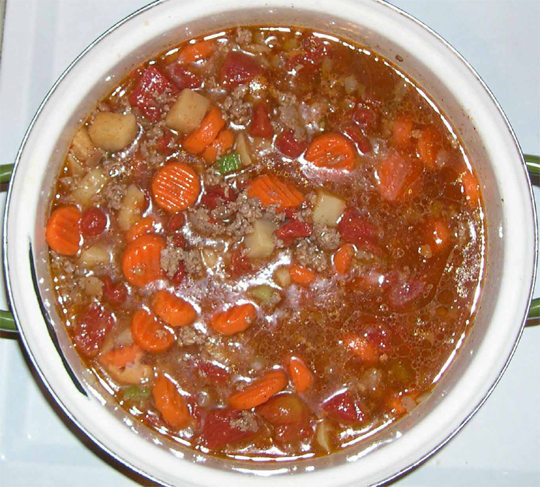 Ingredients
Olive or salad oil

2 pounds beef for stew, cut into 1 1/4 inch chunks

Onion

1 Large

, diced

Carrot

1 Large

, diced

Stalk celery

1 Large

, diced

Garlic

1 Clove (5gm)

, minced

Tomatoes

1 Can (10oz)

Dry white wine

1/3 Cup (16 tbs)

Salt

1 1/2 Teaspoon

Basil

1/2 Teaspoon

Pepper

1/4 Teaspoon

Parsley

1 Tablespoon

, chopped

Lemon peel

1 1/2 Teaspoon

, grated
Directions
1. In 5-quart Dutch oven over medium-high heat, in 2 tablespoons hot olive or salad oil, cook meat, half at a time, until well browned on all sides, removing pieces with slotted spoon to bowl as they brown and adding more oil if necessary.
2. In same Dutch oven over medium heat, in drippings, cook onion, carrot, celery, and garlic until lightly browned, about 5 minutes. Stir in tomatoes with their liquid, wine, salt, basil, and pepper, breaking up tomatoes into small pieces. Return meat to Dutch oven; heat to boiling. Reduce heat to low; cover and simmer 1 1/4 hours or until meat is fork-tender.