»

Recipes

»

Beef
Beef Jerky Recipe
This homemade recipe for beef jerky is quite easy to prepare. Made with flank steak strips and baked in the oven with garlic and lemon pepper seasoning, the beef jerky can be served as a snack with dips or with meals as a side dish.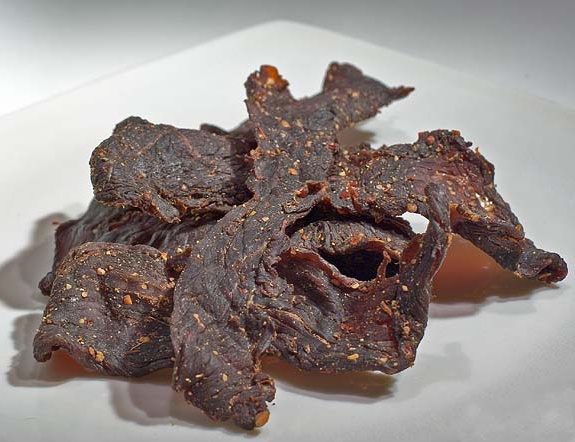 Ingredients
Flank steak

1 Pound

(1 Piece)

Soy sauce

1⁄2 Cup (8 tbs)

Garlic powder

To Taste

Lemon pepper seasoning

To Taste
Nutrition Facts
Serving size: Complete recipe
Calories 791 Calories from Fat 240
% Daily Value*
Total Fat 24 g37%
Saturated Fat 10 g50%
Trans Fat 0 g
Cholesterol 120 mg
Sodium 8052.6 mg335.5%
Total Carbohydrates 10 g3.5%
Dietary Fiber 1.1 g4.5%
Sugars 2.4 g
Protein 100 g200.4%
Vitamin A Vitamin C 0.3%
Calcium 2.5% Iron 36%
*Based on a 2000 Calorie diet
Directions
Slice steak across the grain into 1/4 inch strips.
Combine meat and soy sauce; toss to coat evenly.
Drain and discard soy sauce.
Sprinkle both sides of strips lightly with seasonings.
Place strips in a single layer on an ungreased baking sheet.
Bake at 140° to 150° for 10 hours.
Let cool, and store in an airtight container.
Image Courtesy :
http://en.wikipedia.org/wiki/File:Beef_jerky.jpg