»

Recipes

»

Biscuit
Beaten Biscuits Recipe
Beaten biscuits are homemade biscuits made with flour and milk. Sweetened with sugar and baked in the oven, these beaten biscuits are great when they come out nice and brown.
Beaten Biscuits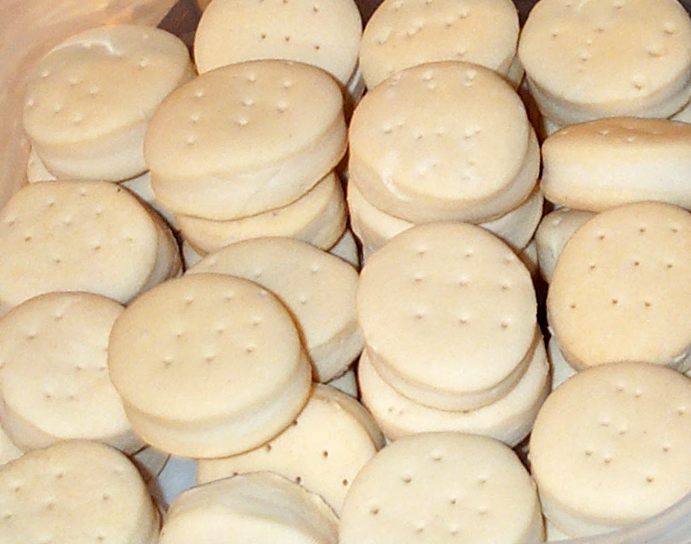 Ingredients
Flour

2 Cup (32 tbs)

Lard

2 Tablespoon

Salt

1⁄2 Teaspoon

Milk and water

1⁄2 Cup (8 tbs)

, mixed

Baking powder

1⁄2 Teaspoon

Sugar

1 1⁄2 Teaspoon
Nutrition Facts
Serving size: Complete recipe
Calories 1253 Calories from Fat 293
% Daily Value*
Total Fat 33 g50.3%
Saturated Fat 12.3 g61.4%
Trans Fat 0 g
Cholesterol 30.9 mg
Sodium 1233.7 mg51.4%
Total Carbohydrates 205 g68.3%
Dietary Fiber 6.8 g27%
Sugars 14.3 g
Protein 30 g59.8%
Vitamin A 0.2% Vitamin C 2%
Calcium 37% Iron 66.3%
*Based on a 2000 Calorie diet
Directions
Sift dry ingredients together, then cut in lard until mixture appears mealy.
Add liquid, a little at a time, to make a stiff dough.
Knead thoroughly, then beat with a heavy mallet for half an hour or run several times through the coarse chopper of a meat grinder until dough is elastic.
Roll 1/2 inch thick and cut with small biscuit cutter.
Prick tops with fork tines and bake on a cooky sheet in a 325° oven for 35 to 45 minutes or until lightly browned.