»

Recipes

»

Soup

»

Carrot Ginger Soup
Carrot Ginger Soup Recipe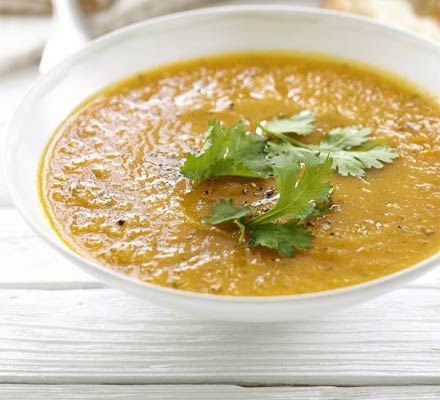 Summary
Preparation Time
20 Min
Servings
4
Ingredients
Carrot

3 Cup (16 tbs)

, chopped

Ghee

1 Tablespoon

Grated ginger

2 Teaspoon

Cilantro

1

, chopped

Ground black pepper

1 To taste

Salt

1 Pinch

Water

1

(As required)
Directions
Cut carrots and add water to 3⁄4 the level of them in the pot. Add ghee. Simmer until carrots are soft. Add the ginger. Cool a little. Place carrots and liquid in blender and add whole milk and cilantro. Blend until smooth or leave a few chunks of carrots. Stir in black pepper at the end.
Augmenting
This recipe has been excerpted from
Simple Ayurvedic Recipes
written by
Myra Lewin
.
To learn more about Myra Lewin's book visit
simpleayurvedicrecipes
.