»

Recipes

»

Beef

»

BBQ BEEF WRAP
BBQ BEEF WRAP Recipe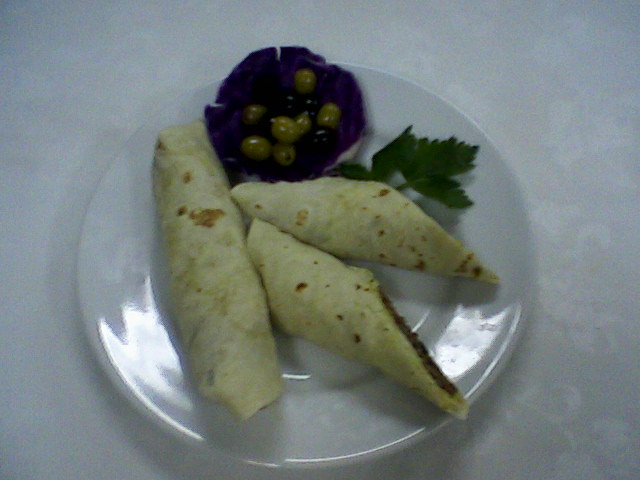 Ingredients
Beef strip

3

Onions slices

3

Tomatoes

3

Cucumber

3

Tortilla wrap

3

Olive oil

1 Tablespoon

Butter

1 Tablespoon

Seasoning

1 Teaspoon

Celery leaf

3

Olives

1 Cup (16 tbs)

(black and green)
Nutrition Facts
Serving size: Complete recipe
Calories 868 Calories from Fat 358
% Daily Value*
Total Fat 40 g61%
Saturated Fat 14.7 g73.4%
Trans Fat 0.2 g
Cholesterol 109.8 mg
Sodium 790.9 mg33%
Total Carbohydrates 86 g28.8%
Dietary Fiber 15.6 g62.4%
Sugars 22.7 g
Protein 50 g99.4%
Vitamin A 78.9% Vitamin C 102.4%
Calcium 21.7% Iron 39.6%
*Based on a 2000 Calorie diet
Directions
Saute the beef strips in hot olive oil for 15 min. then add the onions and cucumber. In the last add the tomatoes and the seasoning . Stir well & adjust the taste.
Spread the butter on the tortilla. Set the sauteed beef on the tortillia. Roll the tortilla and cut it into three parts. Set it on a serving plate. Then garnish the plate with red cabbage, celery leaf and olives. Serve hot.

Chef it looks yummy! But direction is confusing, time to saute and amount etc.
Posted on:
27 July 2007 - 12:34pm