»

Recipes

»

German

»

Bavarian
Bavarian Cream Recipe
Bavarian Cream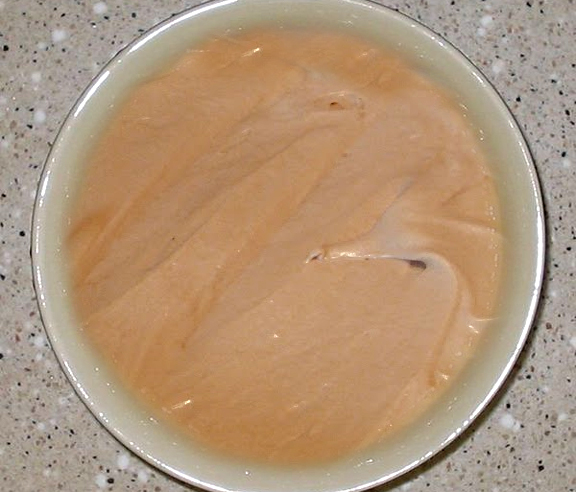 Ingredients
Unflavored gelatin

1 1⁄2 Tablespoon

Water

1 1⁄4 Cup (20 tbs)

Evaporated milk

1 Cup (16 tbs)

Eggs

2

, separated

Sugar

3⁄4 Cup (12 tbs)

Vanilla

2 Teaspoon

Heavy cream

1⁄2 Cup (8 tbs)

, whipped
Nutrition Facts
Serving size
Calories 198 Calories from Fat 81
% Daily Value*
Total Fat 9 g14.2%
Saturated Fat 5.3 g26.6%
Trans Fat 0 g
Cholesterol 82.7 mg
Sodium 62.7 mg2.6%
Total Carbohydrates 23 g7.5%
Dietary Fiber 0 g
Sugars 22.2 g
Protein 6 g12.9%
Vitamin A 7.1% Vitamin C 1.2%
Calcium 10.2% Iron 1.8%
*Based on a 2000 Calorie diet
Directions
Soften gelatin in 1/4 cup water.
Heat remaining water with evaporated milk to scalding in double boiler.
Beat egg yolks and sugar together and add gradually to hot mixture.
Cook over boiling water 3 minutes, or until mixture coats spoon.
Remove from heat, add gelatin and stir until dissolved, then place in pan of ice water.
When mixture begins to thicken, add vanilla.
Fold in stiffly beaten egg whites and whipped cream.
Pour into mold and chill until firm.
Serves 8.