»

Recipes

»

Indian
Batata Vada Recipe
Yesterday I made these delicious potato fritters, well actually they are not fritters but really good round an inch and a half sized balls dipped in seasoned chick pea paste and fried and called Batawada in India.These are a local favorite in Mumbai city and an easy and accessible snack enjoyed by people of all ages. When it is eaten with a bun its called Vada Pav and served with cilantro and garlic chutney. This is actually nicknamed as an Indian Burger. This is a quick and hearty snack and sure to please each ones taste buds. And here's how we make it!!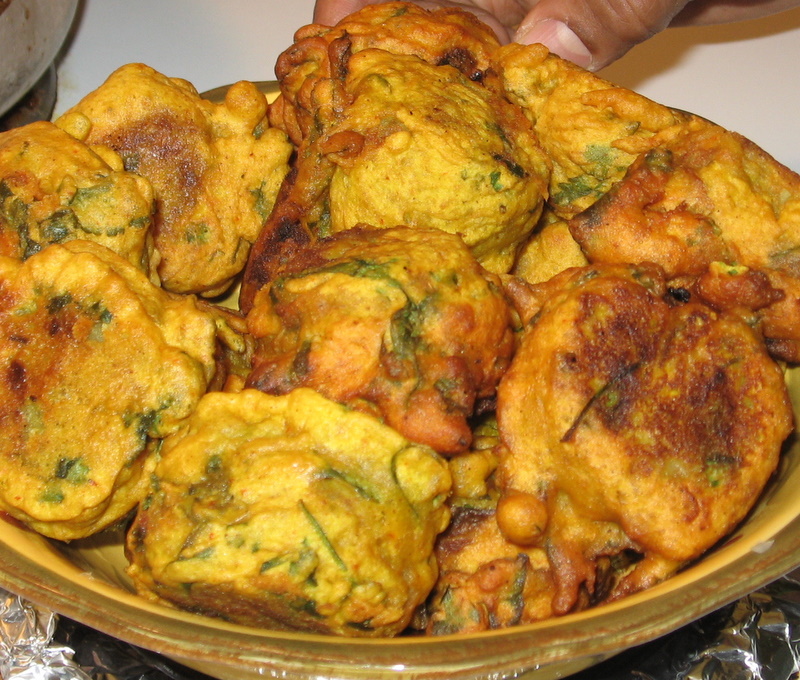 Ingredients
Potatoes

3 Large

(For Filling)

Finely chopped ginger

2 Tablespoon

(For Filling)

Finely chopped garlic

4 Clove (20 gm)

(For Filling)

Jalapenos

2

, finely chopped (deseeded - For Filling)

Curry leaves

8

(For Filling)

Garam masala powder

2 Teaspoon

(For Filling)

Mango powder

1 Teaspoon

(amchur - For Filling)

Mustard seeds

1⁄2 Teaspoon

(For Filling)

Cumin seeds

1⁄2 Teaspoon

(For Filling)

Cilantro

1⁄4 Cup (4 tbs)

(For Filling)

Chickpea flour

1⁄2 Cup (8 tbs)

(For Batter)

Turmeric

1⁄4 Teaspoon

(For Batter)

Salt

To Taste

(For Batter)

Oil

200 Milliliter

(For deep frying)
Nutrition Facts
Serving size
Calories 202 Calories from Fat 41
% Daily Value*
Total Fat 5 g7.2%
Saturated Fat 0.56 g2.8%
Trans Fat 0 g
Cholesterol 0 mg
Sodium 131.4 mg5.5%
Total Carbohydrates 37 g12.2%
Dietary Fiber 4.7 g18.7%
Sugars 2.9 g
Protein 6 g11.5%
Vitamin A 2.8% Vitamin C 55.2%
Calcium 5.6% Iron 11.6%
*Based on a 2000 Calorie diet
Directions
Start with the filling by boling the potatoes.When done mash them and heat about a
1/ 4 cup of oil when heated lower the flame slightly and add the mustard seeds and cumin seeds and the curry leaves.When they start spluttering add the turmeric powder, garlic, ginger and jalapenos.Add the potatoes, garam masala powder and amchur powder. Add salt and mix well. when cool shape them into round balls.
Mix the batter ingredients and add water 2 tbsp at a time, so that its thick and easy to coat the potato balls on dipping them. Now if the batter gets watery add some more flour. Heat about a cup of oil, when nice and hot dip them in the batter.Be careful and do not turn till its fried well on one side and then flip otherwise it may break up.Later fry till nice and golden brown. Serve hot with some cilanto chutney.