»

Recipes

»

Basil Goat Cheese Pizza
Basil Goat Cheese Pizza Recipe
The flavors compliment each other so well and it is so easy! I use frozen bread dough to speed the process. Set out dough before you leave for work and you are ready to go by the time you get home!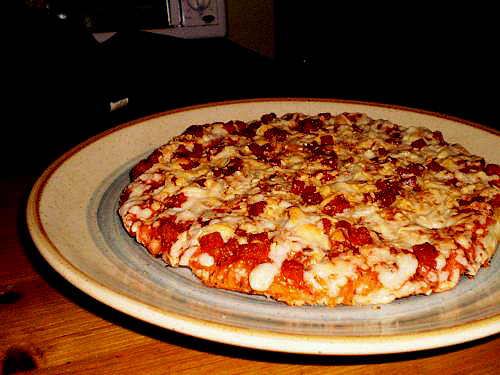 Summary
Preparation Time
2 Hr 20 Min
Cooking Time
25 Min
Ready In
2 Hr 45 Min
Difficulty Level
Medium
Health Index
Healthy
Servings
4
Ingredients
Frozen white bread dough

1 Pound

, thawed

Olive oil

1 Tablespoon

Salt

To Taste

Ground black pepper

1⁄2 Teaspoon

Minced fresh rosemary

1 1⁄2 Teaspoon

Italian tomato sauce

3⁄4 Cup (12 tbs)

Crumbled goat cheese

4 Ounce

Fresh basil sprig

2

, chopped

Fresh basil sprig

2

, chopped
Nutrition Facts
Serving size
Calories 440 Calories from Fat 143
% Daily Value*
Total Fat 16 g24.2%
Saturated Fat 6.4 g32.2%
Trans Fat 0 g
Cholesterol 22.4 mg7.5%
Sodium 1012.9 mg42.2%
Total Carbohydrates 57 g19.2%
Dietary Fiber 3.3 g13.4%
Sugars 7.1 g
Protein 14 g27.1%
Vitamin A 14.4% Vitamin C 6.5%
Calcium 14.5% Iron 19.4%
*Based on a 2000 Calorie diet
Directions
1. Allow dough to rise in a covered bowl until doubled in bulk.

2. Preheat oven to 425 degrees F (220 degrees C).

3. Roll the dough on a floured surface into a 15-inch circle. Roll the edges towards the center to form a crust, leaving a 12-inch circle. Brush the entire crust generously with olive oil, and sprinkle with salt, pepper, 1 sprig of chopped basil, and rosemary. Bake in preheated oven until the crust begins to turn golden, 8 to 10 minutes.

4. Spread the crust with tomato sauce. Sprinkle with 2 sprigs of chopped basil and goat cheese. Bake in preheated oven until the crust is brown, and the pizza has heated through, about 8 more minutes.