»

Recipes

»

Taco

»

Taco

»

Easy Basic Tacos
Easy Basic Tacos Recipe
Easy Basic Tacos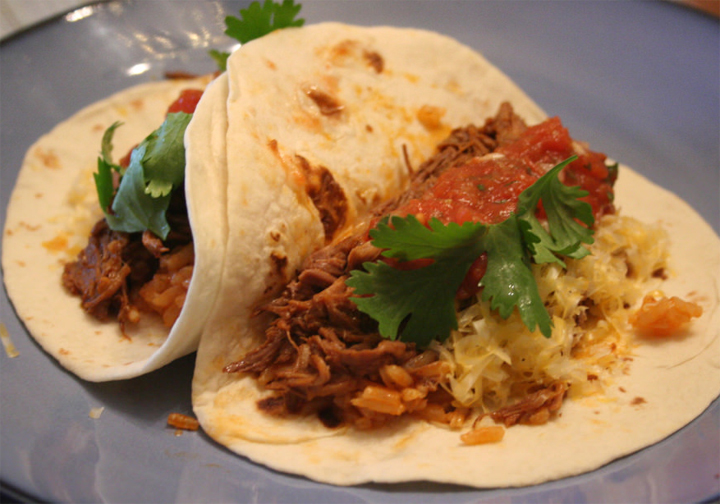 Ingredients
Ground beef filling salad

2 Cup (32 tbs)

(Adjust Quantity As Needed)

Oil

1⁄2 Cup (8 tbs)

(For Deep Frying)

Corn tortillas

12
Nutrition Facts
Serving size: Complete recipe
Calories 1888 Calories from Fat 654
% Daily Value*
Total Fat 72 g110.4%
Saturated Fat 33.9 g169.3%
Trans Fat 0 g
Cholesterol 223.3 mg74.4%
Sodium 3851.5 mg160.5%
Total Carbohydrates 233 g77.8%
Dietary Fiber 21.2 g84.9%
Sugars 0 g
Protein 76 g151.8%
Vitamin A Vitamin C
Calcium 40.2% Iron 55.9%
*Based on a 2000 Calorie diet
Directions
Prepare Ground Beef Filling and keep warm.
Pour oil to a depth of 1/2 inch into a wide frying pan and heat to 350°F on a deep-frying thermometer.
When oil is hot, add a tortilla and cook until soft (about 10 seconds).
Using tongs, fold in half; hold slightly open and continue to cook, turning once, until crisp (about 1 more minute).
Repeat for remaining tortillas, adding more oil as necessary.
Drain on paper towels.
Spoon 2 to 3 tablespoons of the filling into each taco shell.