»

Recipes

»

Fish

»

Basa

»

Garlic Flavored Basa Fish
Garlic Flavored Basa Fish Recipe
This Chinese style basa fish cooked in a mild ginger-garlic sauce is a wonderful accompaniment with your noodles or fried rice. An easy and quick to make dish you can enjoy a complete meal now without much effort.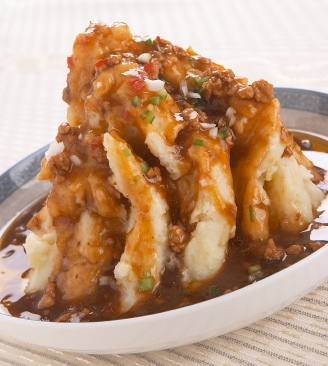 Ingredients
Basa fish pieces

15

, bite size pieces

Cornstarch

3 Tablespoon

All purpose flour

2 Tablespoon

Cooking oil

1 Tablespoon

Salt

To Taste

Crushed black pepper

1⁄2 Teaspoon

, crushed

Sugar

1⁄2 Teaspoon

Soy sauce

1⁄2 Tablespoon

Finely chopped ginger

1 Inch

Finely chopped garlic

4 Clove (20 gm)

Onion

1

, finely chopped
Directions
Marinate the fish with cornflour (2 tbsp), all-purpose flour, salt to taste and a pinch of black pepper. Deep fry the fish pieces and keep aside.

For the sauce:
Add a tbsp of oil. Add the onions, ginger and garlic. Saute for a minute or two till you can smell a nice aroma of the ginger and the onions and soft. Add in the other ingredients (except the fish) and blend well. Add some water or stock and boil for a few minutes. Add cornflour (mixed in water) to thicken the sauce. Boil for a minute and add the fish pieces. Mix well. Serve sprinkled with finely chopped spring onions or parsley.

Anonymous says :
Absolutely delicious! Like another poster, I added a little chilli sauce which really worked well. Oh, and I also used galagal as I had no fresh ginger handy. Excellent recipe.
Posted on:
26 March 2011 - 3:31pm

Anonymous says :
I added a little chilli paste to the recipe and it turned out great. Excellent, simple recipe! Thanks.
Posted on:
26 February 2010 - 2:21pm

Basa fish is one I won't buy as it is from Vietnam and the way they raise fish using antibiotics due to crowding isn't good-same as in China. Basa is catfish and I much prefer o buy American fresh catfish! So this recipe would be excellent with fresh catfish! http://findarticles.com/p/articles/mi_qa5277/is_200508/ai_n24306212 http://www.ctv.ca/servlet/ArticleNews/story/CTVNews/20051111/whistleblower_fish_20051122/20051122/ The French are quite up in arms about safety of eating this polluted fish http://ma-tvideo.france2.fr/video/iLyROoaft4Ei.html Shanti/Mary-Anne
Posted on:
3 September 2008 - 12:45pm