»

Recipes

»

Stuffing

»

Barbecued Cornish Hens Wild Rice Stuffing
Barbecued Cornish Hens Wild Rice Stuffing Recipe
Barbecued Cornish Hens Wild Rice Stuffing is a delicious recipe that you would love to prepare on a get together. Try this Barbecued Cornish Hens Wild Rice Stuffing; I am sure you will have a huge fan following for this!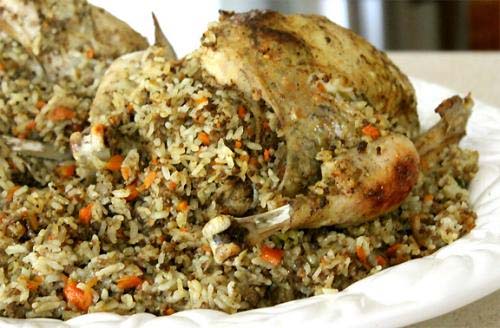 Ingredients
Long grain and wild rice mix

1 Pound

(1 Package)

Poultry seasoning

1⁄2 Teaspoon

Rock cornish game hens

4

, thawed in refrigerator

Raisins

1⁄4 Cup (4 tbs)

Margarine

2 Tablespoon

Margarine

1⁄4 Cup (4 tbs)

Slivered almonds

2 Tablespoon
Nutrition Facts
Serving size: Complete recipe
Calories 8518 Calories from Fat 5383
% Daily Value*
Total Fat 599 g921.2%
Saturated Fat 154.3 g771.7%
Trans Fat 0 g
Cholesterol 3665 mg
Sodium 2877.8 mg119.9%
Total Carbohydrates 106 g35.4%
Dietary Fiber 7.4 g29.7%
Sugars 27.9 g
Protein 638 g1275.3%
Vitamin A 140% Vitamin C 32.6%
Calcium 56.5% Iron 200.7%
*Based on a 2000 Calorie diet
Directions
Make stuffing by cooking rice according to package directions; stir in raisins, margarine, almonds and poultry seasoning.
Rinse game hens, dry, rub inside and out with salt.
Skewer neck skins to back.
Fill each bird with 1/4 of the stuffing; cover opening with a piece of foil.
Tie or skewer wings to body (to prevent burning); tie legs to tail.
Brush birds with soft margarine; place on foil in center of grill over hot coals (or in shallow roasting pan in 375°F oven).
Allow space between birds for heat to circulate.
Grill or roast 1 hour and 15 to 30 minutes; brushing with drippings occasionally.