»

Recipes

»

Bean

»

Barbecued Beans
Barbecued Beans Recipe
Barbecued Baked Beans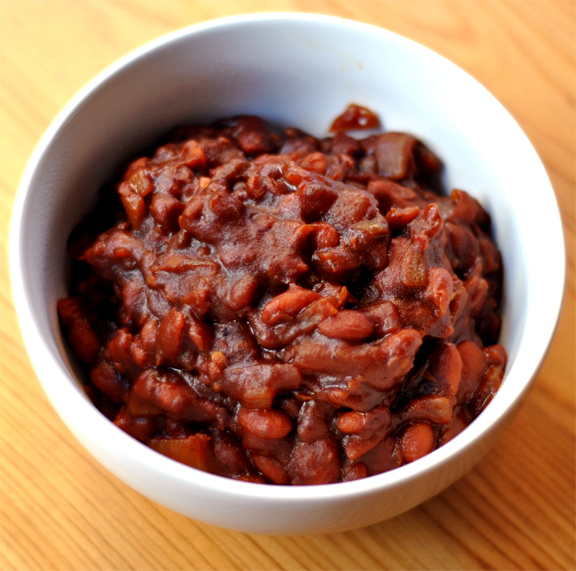 Ingredients
Dried red kidney beans

1 Pound

, washed and soaked

Yellow onions

2 Large

, peeled and finely chopped

Garlic

2 Clove (10 gm)

, peeled and crushed

Bacon drippings

2 Tablespoon

Ketchup

1⁄2 Cup (8 tbs)

Chili sauce

1⁄2 Cup (8 tbs)

Cider vinegar

1⁄2 Cup (8 tbs)

Firmly packed dark brown sugar

1⁄2 Cup (8 tbs)

Powdered mustard

1⁄2 Teaspoon

Chili powder

1⁄2 Teaspoon

Salt

2 Teaspoon

(Adjust Quantity As Per Taste)

Pepper

1⁄2 Teaspoon

Water

5 Cup (80 tbs)

(Adjust Quantity As Needed)
Nutrition Facts
Serving size: Complete recipe
Calories 2632 Calories from Fat 311
% Daily Value*
Total Fat 35 g53.8%
Saturated Fat 14.2 g71.1%
Trans Fat 0 g
Cholesterol 30.3 mg
Sodium 6164.2 mg256.8%
Total Carbohydrates 485 g161.6%
Dietary Fiber 86.4 g345.7%
Sugars 132.3 g
Protein 109 g218.8%
Vitamin A 23.3% Vitamin C 52.5%
Calcium 41.2% Iron 177%
*Based on a 2000 Calorie diet
Directions
GETTING READY
1. Preheat the oven to 350° F.
2. Drain the beans

MAKING
3. In a 3-quart casserole combine the drained beans with the remaining ingredients and stir well to mix
4. Cover the casserole with its lid or with double layers of foil.
5. Place in the preheated oven and bake 5-6 hours, stirring after every hour or so, until beans are cooked and sauce has thickened

SERVING
6. Serve the beans straight out of the casserole as a side dish for barbecued meats like short ribs, beaf steaks or pork chops

TIP
Add a little warm water if mixture gets too dry while baking.