»

Recipes

»

Pork

»

Barbecued Baked Pork Ribs
Barbecued Baked Pork Ribs Recipe
Barbecued Baked Pork Ribs is a variation on a classic recipe. Now, this Barbecued Baked Pork Ribs recipe is seriously good. You need to try it!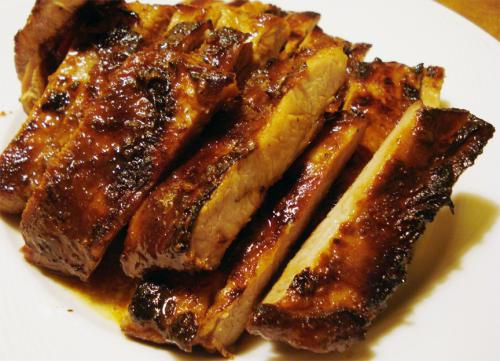 Ingredients
Pork ribs

3 Pound

, washed and cut into slices

Hoisin sauce

2 Tablespoon

Molasses

3 Tablespoon

Sweet and sour sauce

3 Tablespoon

Vinegar

3 Tablespoon

Barbecue sauce

3 Tablespoon

(Kraft Brand)

Garlic

1 Clove (5 gm)

, minced
Nutrition Facts
Serving size: Complete recipe
Calories 2926 Calories from Fat 1461
% Daily Value*
Total Fat 162 g249.2%
Saturated Fat 57.1 g285.6%
Trans Fat 1.6 g
Cholesterol 1007.8 mg
Sodium 1717.2 mg71.6%
Total Carbohydrates 80 g26.8%
Dietary Fiber 0.94 g3.8%
Sugars 60.2 g
Protein 264 g528.9%
Vitamin A 8.6% Vitamin C 10.7%
Calcium 41.3% Iron 78.3%
*Based on a 2000 Calorie diet
Directions
1) Combine all ingredients. Pour over ribs. Cover with foil. Bake at 350 degrees for 2 hours,
2) Remove ribs, put on cookie sheet. Place in oven and broil on both sides. Use the juice left in the pan to make gravy, and pour over cooked noodles.