»

Recipes

»

Bean

»

Barbecue Baked Beans And Bacon
Barbecue Baked Beans And Bacon Recipe
Barbecue Baked Beans And Bacon is a delicious treat you'll love to gorge on. Prepare this Barbecue Baked Beans And Bacon, and let us know your remarks after thorougly enjoying the recipe.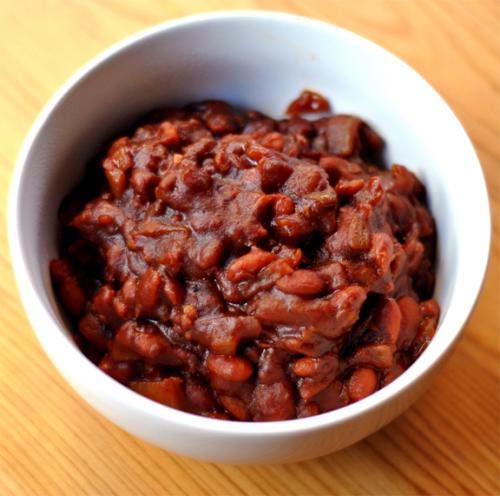 Ingredients
Pork and beans

2 Can (20 oz)

Bacon slices

8

Brown sugar

3⁄4 Cup (12 tbs)

, packed

Dry mustard

1 Teaspoon

Catsup

1 Cup (16 tbs)
Nutrition Facts
Serving size: Complete recipe
Calories 1475 Calories from Fat 139
% Daily Value*
Total Fat 16 g25.1%
Saturated Fat 5.8 g29%
Trans Fat 0 g
Cholesterol 53.4 mg
Sodium 5277.7 mg219.9%
Total Carbohydrates 324 g108%
Dietary Fiber 32 g127.9%
Sugars 204.6 g
Protein 38 g75.1%
Vitamin A 44.8% Vitamin C 79.4%
Calcium 34.6% Iron 60.9%
*Based on a 2000 Calorie diet
Directions
Preheat oven to 375°F.
Empty one can of beans into 1 1/2 quart casserole.
Combine brown sugar and mustard; sprinkle half this mixture over beans.
Top with second can of beans; sprinkle with remaining brown sugar and mustard.
Spread bacon pieces over top.
Pour catsup over all.
Add more bacon and ham pieces, if desired.
Bake uncovered about 45 minutes, until bacon is crisp and beans bubbling hot.