»

Recipes

»

Dressing
Barbecue Salad Dressing Recipe
Barbecue Salad Dressing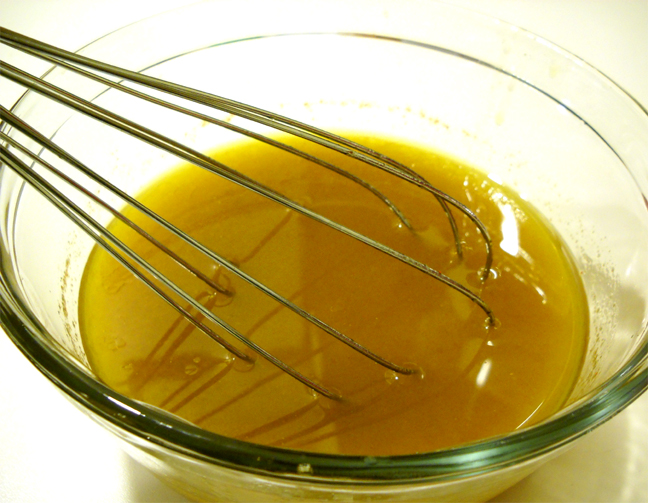 Ingredients
Salad oil

1 Cup (16 tbs)

Salt

2 Teaspoon

Paprika

1⁄2 Teaspoon

Pepper

1⁄2 Teaspoon

Prepared mustard

1 Tablespoon

Worcestershire sauce

3 Drop

Tarragon vinegar

1⁄4 Cup (4 tbs)

Cider vinegar

1⁄4 Cup (4 tbs)

Garlic

2 Clove (10 gm)

, cut in half
Nutrition Facts
Serving size: Complete recipe
Calories 2034 Calories from Fat 1985
% Daily Value*
Total Fat 225 g345.5%
Saturated Fat 10.4 g52.2%
Trans Fat 3.9 g
Cholesterol 0 mg
Sodium 4075.9 mg169.8%
Total Carbohydrates 6 g2.1%
Dietary Fiber 1.7 g6.9%
Sugars 0.8 g
Protein 2 g3.5%
Vitamin A 26.6% Vitamin C 8.6%
Calcium 4.2% Iron 6.5%
*Based on a 2000 Calorie diet
Directions
Mix thoroughly with a rotary beater.
After allowing the garlic to impart its flavor, remove it.
About 30 minutes before broiling lamb chops or steaks, brush the meat liberally with some of this dressing.
Then dip a swab of celery leaves in the dressing and baste the meat with it while cooking.
To what is left of the dressing, add x/2 cup oil, and a dash of sugar, if desired, and stir vigorously.
Pour it over crisp mixed greens for a simple tossed salad.