»

Recipes

»

Pie

»

Rum Pie

»

Banana Rum Pie
Banana Rum Pie Recipe
Banana Rum Pie has an Unlikely taste. The bananas and semi sweet chocolate gives the Banana Rum Pie Thrilling taste.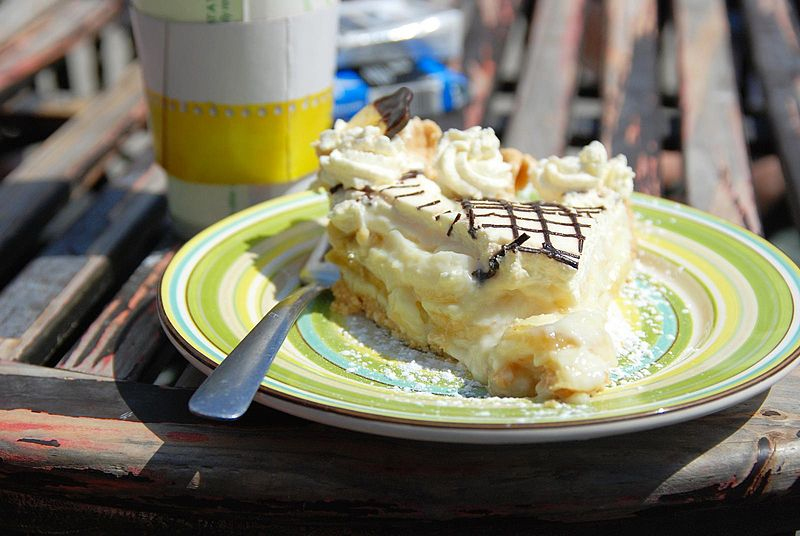 Ingredients
Vegetable shortening pastry

1

(For 1 Crust Pie)

Finely chopped pecans

3 Tablespoon

Vanilla pudding mix

3 1⁄2 Ounce

(1 Package)

Unflavored gelatin

1 Tablespoon

Milk

2 1⁄4 Cup (36 tbs)

White frosting mix

7 1⁄4 Ounce

(Fluffy, 1 Package)

Rum flavoring

1 1⁄2 Teaspoon

Salt

1 Dash

Nutmeg

1 Dash

Bananas

3

Semisweet chocolate square

1

Butter/Margarine

1 Tablespoon
Nutrition Facts
Serving size: Complete recipe
Calories 2366 Calories from Fat 744
% Daily Value*
Total Fat 85 g131.2%
Saturated Fat 27.9 g139.5%
Trans Fat 0 g
Cholesterol 83.1 mg
Sodium 2173.6 mg90.6%
Total Carbohydrates 375 g125.1%
Dietary Fiber 17.4 g69.8%
Sugars 191.3 g
Protein 46 g91.4%
Vitamin A 23% Vitamin C 53%
Calcium 66.7% Iron 19.2%
*Based on a 2000 Calorie diet
Directions
Prepare vegetable shortening pastry as directed except add the pecans to dry ingredients before adding water.
Line 9 inch pie plate; prick with fork.
Bake and cool.
In medium saucepan, combine pudding mix and gelatin.
Cook according to directions on pudding package, using the 2 1/4 cups milk.
Remove from heat; cover with waxed paper; set aside.
Prepare frosting mix according to package directions.
Stir in rum flavoring, salt, and nutmeg.
Gradually fold hot pudding into frosting.
Slice one banana into pastry shell; cover with half the filling.
Repeat with second banana and remaining filling.
Chill 3 to 4 hours.
Diagonally slice remaining banana; arrange on pie.
Melt together chocolate and butter; mix well.
Drizzle over banana.
Image Courtesy :
http://commons.wikimedia.org/wiki/File:Banana_cream_pie_on_plate_with_concentric_circles_at_Wonda's_Pie_in_the_Sky.jpg