»

Recipes

»

Banana Ice Cream
Banana Ice Cream Recipe
Homemade banana ice cream is a real joy. Made with bananas and eggs mixed and flavored with vanilla and lemon juice, it is a frozen dessert that is best served with a warm sauce of choice.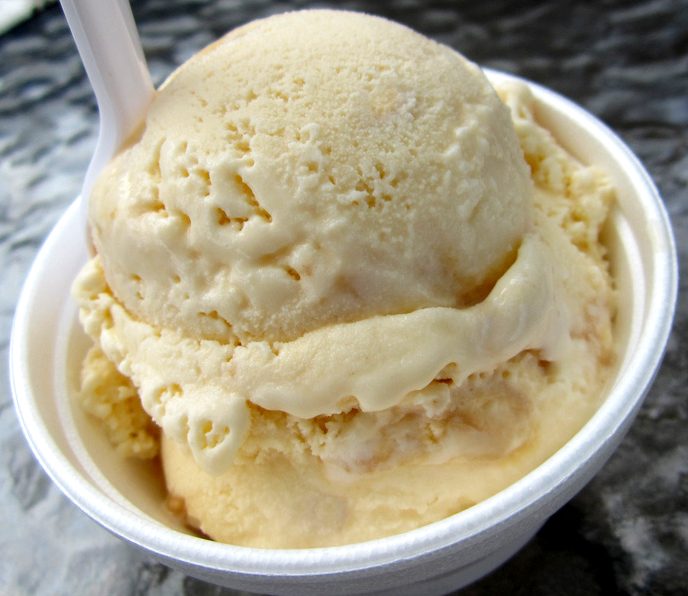 Ingredients
Unflavored gelatin

1 1⁄2 Teaspoon

Cold water

2 Tablespoon

Light cream

3⁄4 Cup (12 tbs)

Sugar

1⁄2 Cup (8 tbs)

Salt

1⁄4 Teaspoon

Mashed ripe bananas

1 Cup (16 tbs)

, fully ripe ones

Egg yolks

2

Lemon juice

2 Teaspoon

Vanilla

1 Teaspoon

Whipped heavy cream

2 Cup (32 tbs)

Egg whites

2

Sugar

1⁄4 Cup (4 tbs)
Nutrition Facts
Serving size
Calories 1161 Calories from Fat 668
% Daily Value*
Total Fat 76 g116.8%
Saturated Fat 46.2 g231.2%
Trans Fat 0 g
Cholesterol 448 mg
Sodium 381.6 mg15.9%
Total Carbohydrates 110 g36.7%
Dietary Fiber 4.6 g18.4%
Sugars 75.9 g
Protein 13 g26.3%
Vitamin A 57.6% Vitamin C 5.9%
Calcium 16.5% Iron 3.1%
*Based on a 2000 Calorie diet
Directions
Soften gelatin in cold water.
Add hot scalded cream; stir to dissolve gelatin.
Stir in 1/2 cup sugar and the salt.
Chill till partially set.
Whip till smooth.
Blend in bananas, egg yolks, lemon juice, and vanilla.
Fold in whipped cream.
Beat egg whites to soft peaks; gradually add 1/4 CUP sugar, beating till stiff.
Fold into banana mixture.
Pour into refrigerator trays.
Freeze till firm.
Serve plain or with warm Fudge Sauce.
Image Courtesy :
http://www.flickr.com/photos/thegirlsny/6052210349/