»

Recipes

»

Fritter

»

Banana Fritters
Banana Fritters Recipe
Banana fritters are wonderful sweet bites that can be made in a number of ways. The fritters can be made with ripe mashed bananas and into pieces like in this recipe. Try this banana fritter recipe and serve with ice cream or whipped cream.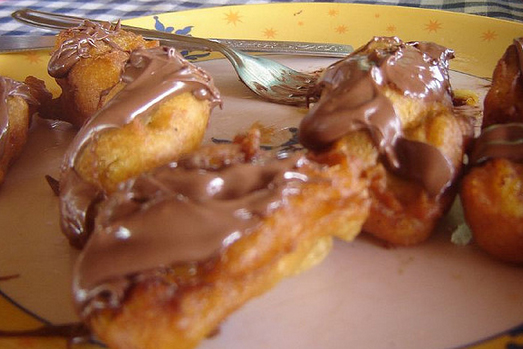 Ingredients
All-purpose flour-1 cup, sifted

Baking powder

2 Teaspoon

Salt

1 1/4 Teaspoon

Sugar

1/4 Cup (16 tbs)

Egg

1

, Well beaten

Milk

1/3 Cup (16 tbs)

Shortening

2 Teaspoon

, melted

Yellow bananas-3 firm

Flour

Deep fat- for frying
Directions
MAKING
1)In a bowl, sift together flour, baking powder, salt and sugar.
2)In another bowl, mix egg, milk and shortening.
3)Add to dry ingredients and mix until batter is smooth.
4)Chop bananas into 4 diagonal pieces. Roll in flour.
5)Dip into batter to coat banana pieces.
6)Take a pan and heat fat into it.
7)Drop about 3 or 4 pieces of coated banana into the hot fat and cook about 6 minutes, or until well-browned from all sides. Drain.

SERVING
8)Serve piping hot for dessert with a hot fruit sauce or liberal servings of whipped cream spiced with cinnamon.