»

Recipes

»

Pudding

»

Banana Custard Pudding
Banana Custard Pudding Recipe
How to make Banana custard pudding?Eaten chilled this Banana Custard Pudding has great flavors in it.Recipe of Banana Custard Pudding.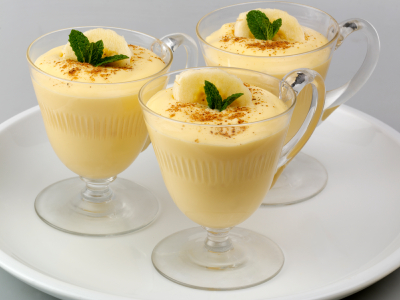 Summary
Preparation Time
8 Min
Cooking Time
1 Hr 0 Min
Ready In
1 Hr 8 Min
Difficulty Level
Medium
Ingredients
Sugar

2 1⁄2 Cup (40 tbs)

All purpose flour

1⁄2 Cup (8 tbs)

Cornstarch

1⁄4 Cup (4 tbs)

Milk

7 Cup (112 tbs)

Egg yolks

4

, beaten

Butter

1⁄4 Cup (4 tbs)

, softened

Vanilla extract

1 Teaspoon

Vanilla wafers

12 Ounce

Bananas

9

, sliced (peeled)
Nutrition Facts
Serving size
Calories 313 Calories from Fat 76
% Daily Value*
Total Fat 8 g12.7%
Saturated Fat 4.7 g23.5%
Trans Fat 0.5 g
Cholesterol 51 mg
Sodium 62.8 mg2.6%
Total Carbohydrates 58 g19.2%
Dietary Fiber 2.1 g8.4%
Sugars 38.2 g
Protein 5 g9.1%
Vitamin A 4.6% Vitamin C 7.8%
Calcium 11.5% Iron 2.2%
*Based on a 2000 Calorie diet
Directions
Combine sugar, flour, and cornstarch in a medium mixing bowl. Mix well, and
set aside. Pour milk into a large saucepan; cook over medium heat until
candy thermometer registers 160 deg F. Gradually stir one-fourth of hot
milk into yolks; stir into reserved dry ingredients, and add to remaining
hot milk. Cook, stirring constantly, until mixture thickens and coats the
spoon. Remove from heat, and stir in butter and vanilla. Let cool to room
temperature. Line bottom of a 13 x 9 x 2-inch baking dish with one-third of
the vanilla wafers. Arrange half of banana slices over wafers; top with
half of cooled custard. Repeat layers, reserving one-third of wafers to
crumble and sprinkle over custard. Chill thoroughly

Rashid, this is a sweet and creamy dessert. One of the best banana desserts that you can make. Let me know if that answers your question.
Posted on:
23 February 2012 - 1:51am

rashid sulaiman says :
what taste are giving banana custard pudding recipe
Posted on:
22 February 2012 - 10:06am

This Banana Custard Pudding looks awesome!c Can't wait to mouth a spoonful! Like the veg foodie, I am veggie too and I think the Banana Custard Pudding will taste yummy without egg. But what should I use in such a case in place of egg?
Posted on:
24 April 2009 - 11:16am

sounds like a simple-n-yummy recipe to me... wondering whether I can use any other fruit in the place of banana?!
Posted on:
24 April 2009 - 5:56am

I never made custard pudding with eggs...! Is it a vital ingredient. im a veggie and i always make my bakes, puddings and desserts without eggs... they always turn out delicious... so the eggs can be skipped right? cuz i wanna try this. it sounds good.
Posted on:
24 April 2009 - 5:33am
it's quite yummy..... really nice to enjoy this type of food & to impress to my friends too.
Posted on:
24 April 2009 - 4:48am