»

Recipes

»

Banana Walnut Bran Muffins
Banana Walnut Bran Muffins Recipe
Banana Bran Muffin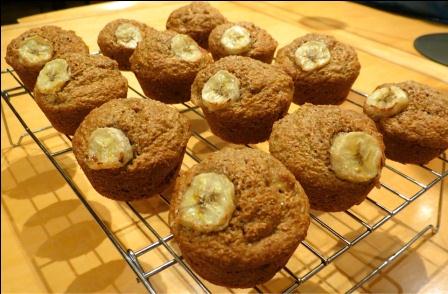 Ingredients
Walnuts

2⁄3 Cup (10.67 tbs)

Whole wheat flour

1 1⁄4 Cup (20 tbs)

(Measured Scoop And Level)

Non fat milk powder

2 Tablespoon

(Non Instant)

Baking powder

1 Tablespoon

Baking soda

1⁄2 Teaspoon

Salt

1⁄2 Teaspoon

Bran

3⁄4 Cup (12 tbs)

Bananas

2 Medium

(Ripe)

Milk

1⁄2 Cup (8 tbs)

Egg

1

Oil

2 Tablespoon

Honey

2 Tablespoon

Vanilla extract

1 Teaspoon
Nutrition Facts
Serving size
Calories 163 Calories from Fat 65
% Daily Value*
Total Fat 8 g11.6%
Saturated Fat 1.1 g5.6%
Trans Fat 0 g
Cholesterol 19.1 mg6.4%
Sodium 259.7 mg10.8%
Total Carbohydrates 22 g7.5%
Dietary Fiber 3.4 g13.5%
Sugars 6.1 g
Protein 6 g11.2%
Vitamin A 0.9% Vitamin C 2.7%
Calcium 14.8% Iron 7.1%
*Based on a 2000 Calorie diet
Directions
GETTING READY
1) Preheat oven to 400°.
2) In your food processor, use METAL BLADE setting.
3) In the work bowl, add walnuts. Pulse on/off to chop, coarsely.
4) In a medium mixing bowl, transfer the walnuts and place aside.
5) In the work bowl, add flour, milk powder, baking powder, baking soda, salt and bran. Pulse on/off to mix.
6) Add the mixture to the mixing bowl, with nuts. Toss well to mix.
7) Cut bananas into pieces and process all to smooth.
8) Pour in milk, egg, oil, honey and vanilla extract. Pulse on/off to combine.
9) Add the flour mixture at once by removing the lid. Pulse on/off 2-3 times until flour is just moistened.
10) Use 12 well-greased muffin cups to fill 2/3 part with the batter.

MAKING
11) Place inside oven to bake 16-18 minutes or until toothpick inserted in center comes out clean.
12) Transfer the muffins on metal rack to cool.

SERVING
13) Serve hot or cold by adding your choice of topping.