»

Recipes

»

Banana Ice Cream
Banana Ice Cream Recipe
Were you looking for a great Banana Ice Cream recipe? There is not a single month when I don't serve this yummy Dessert! An incredible Banana Ice Cream gets its taste from banana. Serve this Banana Ice Cream at the table today and watch it disappear in delight!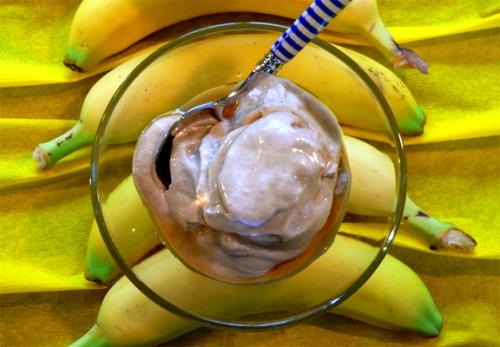 Ingredients
Milk

3⁄4 Pint

(450 Milliliter)

Caster sugar

6 Ounce

(115 Gram)

Eggs

3

, beaten

Vanilla essence

1 Teaspoon

Double cream

3⁄4 Pint

(450 Milliliter)

Bananas

6

, mashed
Nutrition Facts
Serving size: Complete recipe
Calories 3459 Calories from Fat 1896
% Daily Value*
Total Fat 211 g324.3%
Saturated Fat 12.2 g60.9%
Trans Fat 0 g
Cholesterol 670.4 mg
Sodium 361.6 mg15.1%
Total Carbohydrates 361 g120.3%
Dietary Fiber 18.7 g74.9%
Sugars 278.9 g
Protein 44 g87.4%
Vitamin A 31.2% Vitamin C 104.4%
Calcium 52.3% Iron 26.3%
*Based on a 2000 Calorie diet
Directions
Put the milk, sugar and eggs in a small pan and heat gently, stirring constantly, until the mixture thickens.
Strain into a bowl and add the vanilla essence.
Leave to cool.
Whip the cream until slightly thickened and fold into the cooled custard.
Stir in the mashed bananas.
Pour into a rigid freezerproof container, cover, seal and freeze until firm.
Transfer to the refrigerator about 1 hour before serving to soften.
Transfer to a large chilled glass dish to serve.