»

Recipes

»

Pudding

»

Banana Chocolate Bread Pudding With Caramel Sauce And Coffee Ice Cream
Banana Chocolate Bread Pudding with Caramel Sauce and Coffee Ice Cream Recipe
Banana and Chocolate Bread Pudding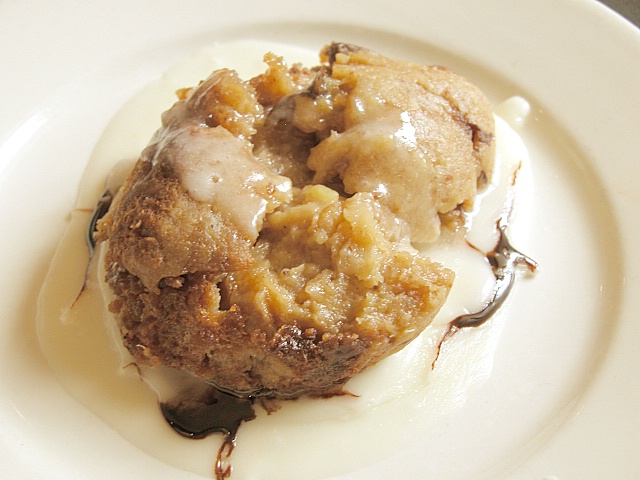 Ingredients
For banana bread

Cake flour

2 Cup (32 tbs)

Baking powder

1 Tablespoon

Salt

1⁄2 Teaspoon

Grated nutmeg

1⁄4 Teaspoon

Butter

1⁄2 Cup (8 tbs)

Granulated sugar

1⁄4 Cup (4 tbs)

Egg

1

, beaten

Ripe bananas

1 Pound

, mashed

Vanilla

1 Teaspoon

For chocolate custard

Bittersweet chocolate

1⁄3 Pound

Butter

1⁄4 Cup (4 tbs)

, diced

Milk

2 1⁄3 Cup (37.33 tbs)

Eggs

3

Egg yolks

3

Brown sugar

3⁄4 Cup (12 tbs)

For caramel sauce

Sugar

1⁄2 Cup (8 tbs)

Whipping cream

1⁄4 Cup (4 tbs)

Whipping cream

1⁄4 Cup (4 tbs)

For glazed banana

Bananas

3

, thinly sliced

Brown sugar

1⁄4 Cup (4 tbs)

Brown sugar

1⁄4 Cup (4 tbs)

Coffee ice cream

1 Pint

Fresh berries

1⁄2 Cup (8 tbs)

Mint leaves

1 Tablespoon
Nutrition Facts
Serving size
Calories 1271 Calories from Fat 512
% Daily Value*
Total Fat 58 g88.9%
Saturated Fat 30.6 g153.1%
Trans Fat 0 g
Cholesterol 353.4 mg
Sodium 462.5 mg19.3%
Total Carbohydrates 178 g59.3%
Dietary Fiber 10.9 g43.7%
Sugars 118.8 g
Protein 19 g38.3%
Vitamin A 25.1% Vitamin C 24.7%
Calcium 39.6% Iron 13.4%
*Based on a 2000 Calorie diet
Directions
GETTING READY
1) Preheat oven to 350 degrees F for bread and 375 degrees F for pudding.
2) Grease a 4X4 inch loaf pan with butter or oil.

MAKING
3) For making bread, mix together baking powder, flour, nutmeg and salt.
4) Mix together butter and cream. Beat in egg slowly.
5) Add banana, and gently fold in the dry ingredients. Blend well to smoothness. Add in vanilla.
6) Transfer dough into pan and bake for 50 minutes until done. Test with a knife inserted into bread, once done, knife comes out clean.
7) For preparing chocolate custard, boil cream and pour over chocolate and butter. Mix together to smoothness.
8) Transfer to a saucepan and add in milk. Stir cook over medium heat to combine well. Switch off the heat.
9) In a stainless steel bowl, beat eggs, sugar and egg yolks. Add in chocolate mix and blend well. Strain.
10) Cut banana bread into pieces of 1 inch.
11) In a large bowl, place the bread pieces and pour in the chocolate custard. Cover using plastic wrap and let alone for half hour. Bread would soak custard in this time.
12) Take 12 greased tin cups or ramekins. Place in a waterbath.
13) Fill ¾ of each cup with the bread custard mixture.
14) Bake for 15 minutes until set.
15) Cool for 5 minutes and then remove cups from oven.

FINALIZING
16) For preparing caramel sauce, in a heavy saucepan, put sugar and pour water to immerse. Simmer over low heat until sugar dissolves. Now increase heat and let sugar solution boil and caramelize the sugar into a deep brown color. Slowly add in cream. Simmer until thick and smooth. Cool.
17) For preparing glazed banana, arrange banana slices in a circle, overlapping each other. Sprinkle sugar on top and broil or torch until sugar browns.

SERVING
18) On serving plates, place the warm bread pudding in the center and top with glazed bananas and ice-cream.
19) Top with caramel sauce and garnish with mint leaves and berries.