»

Recipes

»

Banana Bran Muffins
Banana Bran Muffins Recipe
Banana Bran Muffin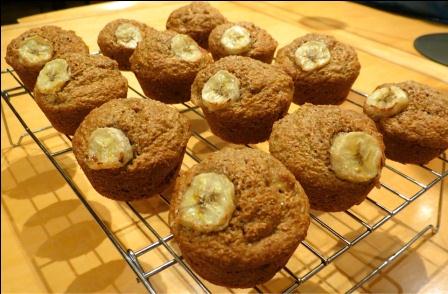 Ingredients
All purpose flour

1 Cup (16 tbs)

All bran cereal

1 Cup (16 tbs)

Baking powder

1 Teaspoon

Baking soda

1 Teaspoon

Salt

1⁄2 Teaspoon

Cocoa

2 Tablespoon

Butter/Margarine

1⁄4 Cup (4 tbs)

Granulated sugar

1⁄2 Cup (8 tbs)

Eggs

2

Sour milk

1⁄4 Cup (4 tbs)

(1 Teaspoon Vinegar In Milk)

Mashed bananas

1 Cup (16 tbs)

(3 Medium Sized)
Directions
GETTING READY
1) Grease well the muffin tins.

MAKING
2) In a mixing bowl, combine all six dry ingredients.
3) Mix to combine well.
4) Make a well in center of the mixture.
5) Whisk butter, sugar and one egg until well blended.
6) Add second egg and beat well.
7) Mix in sour milk and mashed bananas.
8) Pour everything at once into well.
9) Mix the dry mixture until moistened.
10) Batter should be slight lumpy.
11) Fill greased muffin pans 3/4 full with the batter.
12) Bake muffins at 400°F (200°C) in oven for 20-25 minutes.
13) Let the muffins stand on a wire rack for at least 5 minutes and reamove from the tins.

SERVING
14) Serve the banana bran muffins as snack.