»

Recipes

»

Italian

»

Balsamic-Roasted Brussel Sprout
Balsamic-Roasted Brussel Sprout Recipe
This balsamic-roasted brussel sprouts covered in parmesan cheese and pine nuts makes the perfect side to most any meal. It is super easy to make and full of flavor. It works in the oven or on the grill!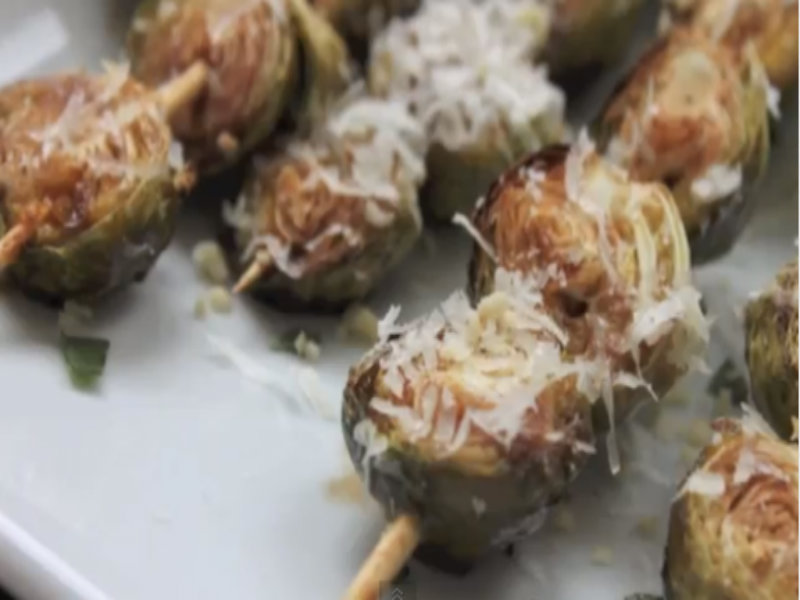 Ingredients
Brussel sprouts

1 Pound

, halved

Balsamic vinegar

1⁄4 Cup (4 tbs)

Olive oil

1 Tablespoon

Parmesan cheese

2 Tablespoon

Pine nuts

1⁄8 Cup (2 tbs)

, diced
Nutrition Facts
Serving size
Calories 102 Calories from Fat 51
% Daily Value*
Total Fat 6 g9.1%
Saturated Fat 1.4 g6.8%
Trans Fat 0 g
Cholesterol 3.4 mg
Sodium 101.4 mg4.2%
Total Carbohydrates 9 g3%
Dietary Fiber 3 g11.9%
Sugars 3.3 g
Protein 5 g9.6%
Vitamin A 11.8% Vitamin C 107.1%
Calcium 9.4% Iron 7.5%
*Based on a 2000 Calorie diet
Directions
GETTING READY
1. Pre heat the grill to 400 degrees.
2. Cut the brussel sprouts in half. Skew the halves in skewers.
3. Marinate the brussel sprouts with the balsamic vinegar and the olive oil.
4. Roast in the grill for 30 minutes until the outside skin of the brussel sprouts is crispy.
5. Sprinkle the diced pine nuts and parmesan cheese on top.
SERVING
6. Serve right away.
Recipe Courtesy of:
cookingstoned.tv