»

Recipes

»

Baklava
Baklava Recipe
Baklava was originated in ancient Greek & Turkey.Baklava recipe is from the period of Ottoman Empire, but today Baklava is a very popular pastry dessert all of the world.The essential ingredients of Baklava are phyllo dough & nuts.My recipe of Baklava is traditional yet very unique in it's own way.Try my Baklava recipe & post your comments.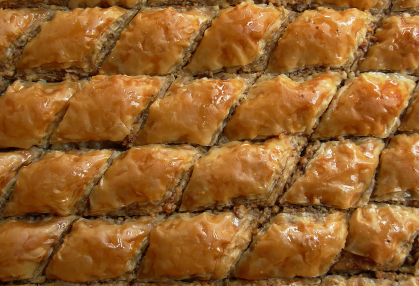 Summary
Preparation Time
8 Min
Cooking Time
1 Hr 50 Min
Ready In
1 Hr 58 Min
Difficulty Level
Medium
Ingredients
Strudel dough/Phyllo leaves

1 Pound

Butter

1 Pound

, well melted (unsalted)

Walnut meat

1 Pound

, chopped medium fine

Vanilla/Vanilla sugar

1 Teaspoon

Sugar

4 Cup (64 tbs)

Water

2 Cup (32 tbs)

Lemon juice

1 Tablespoon
Nutrition Facts
Serving size: Complete recipe
Calories 11333 Calories from Fat 6989
% Daily Value*
Total Fat 808 g1242.7%
Saturated Fat 300.8 g1504%
Trans Fat 0 g
Cholesterol 975.3 mg
Sodium 1179.6 mg49.1%
Total Carbohydrates 1024 g341.4%
Dietary Fiber 38.5 g153.8%
Sugars 812.4 g
Protein 97 g194%
Vitamin A 228.6% Vitamin C 21.3%
Calcium 88.3% Iron 122.3%
*Based on a 2000 Calorie diet
Directions
Heat oven to 300 degrees F. to 325 degrees F.
MAKE THE SYRUP: Boil the water and sugar for 15 minutes. Add lemon juice,
boil 10 more minutes, set aside to cool.
MAKE THE FILLING: Mix all ingredients well. I prefer the walnuts fairly
coarse; some people like them quite fine.
BUILD THE BAKLAVA: Cut the dough with scissors to the size of the tray.
Handle the dough very carefully; do not press hard on it at any time. Cover
with wax paper and damp towel.
Take out one sheet of dough at a time and place it in the pan. Brush the
dough with melted butter between each layer. Continue until you have about
12 sheets buttered. Small and broken pieces of dough can be used in the
center, but there must be butter between every two layers.
Spread walnut filling across the tray. Put on a sheet of dough, brush on
butter and continue until all the dough is used up.
Cut into diamond shapes: cut into quarters with cuts parallel to the long
axis, then cut diagonally across. Don't press hard!
Bake for about 1 1/2 hour, until golden brown. Be careful not to burn the
bottom or the walnuts, especially with a glass pan.
Let cool on rack for 5 minutes. Add syrup which should have cooled to room
temperature. The Baklava is ready but let cool for at least two hours before eating.

Anonymous says :
I have a problem with the simple syrup getting too hard or "Crusty" when it cools. Has anyone else had this problem or know how to prevent it?
Posted on:
5 September 2010 - 3:53pm

Jessi says :
I make my syrup while the baklava is baking, so I never have a problem with it setting up... I am Greek so my family does the baklava a bit differently than this, but this person does a pretty good job... I buy my phyllo pre-made but other aspects are more labor intensive (spices in the nut mixture, more layers of nuts, etc)... i have the recipe if anyone wants it... happy eating!
Posted on:
20 January 2012 - 12:14am

Leah (lay-ah) says :
Mid eastern baklava also uses orange blossom water in the syrup, such a lovely light touch that I had to beg for the recipe. Took me ages to find orange blossom water in Canada or England though. I have also heard that rose water can be used as well but I prefer the orange blossom water.
Posted on:
10 January 2010 - 11:45pm

Sometimes pistachio nuts are used for baklava along with local honey and lemons. I love this dessert. I don't make my own phyllo I just buy the frozen sheets. My son-in-law's mother males the phylo and borek dough by hand-amazing to watch as she rolls it out paper thin It is that the Assyrians at around 8th century B.C. were the first people who put together a few layers of thin bread dough, with chopped nuts in between those layers, added some honey and baked it in their primitive wood burning ovens. This earliest known version of baklava was baked only on special occasions. In fact, historically baklava was considered a food for the rich until mid-19th century. In Turkey, to this day one can hear a common expression often used by the poor, or even by the middle class, saying: "I am not rich enough to eat baklava and boerek every day". Shanti/Mary-Anne
Posted on:
21 February 2008 - 5:46pm

I love Baklava. Good pic.
Posted on:
21 February 2008 - 3:43pm