»

Recipes

»

Baklava
Baklava Recipe
This baklava recipe is a spiced nut filled recipe that brings the taste of the mediterranean into your kitchen! Prepared with a spiced filling of sweetened walnuts and almonds, the phyllo pastries are baked to cook and are great for parties and occasions.
Baklava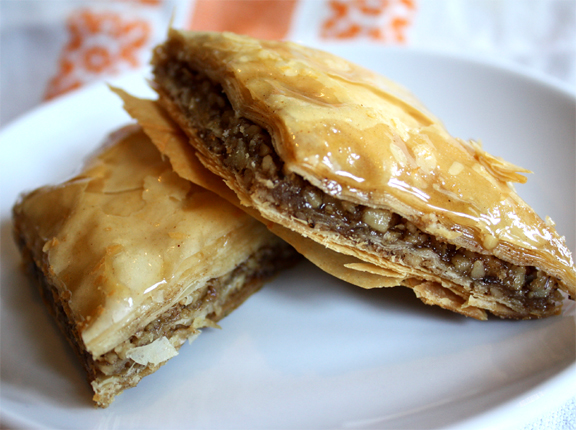 Ingredients
Frozen phyllo pastry

17 1⁄4 Ounce

(1 Package, Thawed)

Butter

1 Cup (16 tbs)

, melted

Walnuts

1 Cup (16 tbs)

Ground almonds

1⁄3 Cup (5.33 tbs)

Sugar

2 Tablespoon

Ground cinnamon

1⁄2 Teaspoon

Ground nutmeg

1⁄2 Teaspoon

Syrup

1 Tablespoon
Nutrition Facts
Serving size: Complete recipe
Calories 3857 Calories from Fat 2291
% Daily Value*
Total Fat 262 g403.6%
Saturated Fat 122.4 g611.8%
Trans Fat 0 g
Cholesterol 483.8 mg
Sodium 2269.8 mg94.6%
Total Carbohydrates 361 g120.3%
Dietary Fiber 18.8 g75.1%
Sugars 43.2 g
Protein 58 g116.1%
Vitamin A 113.1% Vitamin C 2.5%
Calcium 37.9% Iron 96.3%
*Based on a 2000 Calorie diet
Directions
Cut phyllo in half crosswise, and cut each half to fit a 13 x 9 x 2 inch pan.
Cover with a slightly damp towel.
Lightly butter bottom of a 13 x 9 x 2 inch pan.
Layer 10 sheets of phyllo in pan, brushing each sheet with melted butter.
Set aside.
Combine walnuts, almonds, sugar, and spices, mixing well.
Sprinkle one third of nut mixture over phyllo in pan; drizzle with a little melted butter.
Topnut mixture with 11 sheets of phyllo, brushing each sheet with butter; repeat twice with remaining nut mixture, phyllo, and butter, ending with buttered phyllo.
Cut into diamond shapes.
Bake at 350° for 50 minutes.
Cool thoroughly.
Drizzle warm syrup over pastries.
Let stand at room temperature 24 hours.