»

Recipes

»

Salmon
Baked Salmon Recipe
This baked salmon recipe is an easy to make dish for when you want to indulge in some exotic cooking. Cooking great food does not mean spending hours in the kitchen, however, the final outcome can be made to look so with minimum effort. Here's how.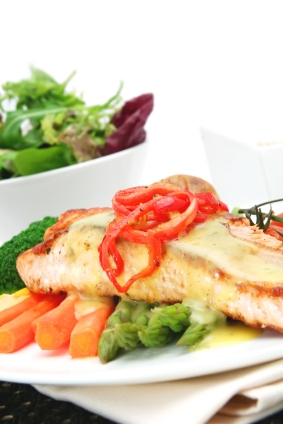 Ingredients
Salmon fillet

1

Onions slices

4

Lemon slices

4

Tomato slices

3

Fresh chopped parsley

1⁄2 Tablespoon

Salt

To Taste

Butter

1⁄2 Cup (8 tbs)

(1 stick)

Italian seasoning

1 Tablespoon

Crushed black pepper

1 Teaspoon
Nutrition Facts
Serving size: Complete recipe
Calories 1053 Calories from Fat 852
% Daily Value*
Total Fat 97 g149%
Saturated Fat 58.7 g293.6%
Trans Fat 0 g
Cholesterol 319.9 mg
Sodium 2373.6 mg98.9%
Total Carbohydrates 20 g6.6%
Dietary Fiber 3.9 g15.6%
Sugars 6.8 g
Protein 33 g65.4%
Vitamin A 80.4% Vitamin C 66.9%
Calcium 10.7% Iron 19.2%
*Based on a 2000 Calorie diet
Directions
Rub the salmon fillet with salt, pepper and the Italian dressing. Take a baking dish and layer with the onions. Place the salmon fillet on it. Layer with the tomato slices and lemon slices. Sprinkle with parsley. Place the stick of butter in the dish. Bake in a pre-heated oven at 200 degrees for 30-40 minutes or till well done. Serve.

I have a salmon recipe of my own on here, "how to bake salmon" is the name.
Posted on:
23 March 2010 - 7:32pm