»

Recipes

»

Salmon

»

Healthy Baked Salmon
Healthy Baked Salmon Recipe
This baked salmon recipe is one that I have mastered over a period of my trials. This delicious baked salmon beautifully combines the flavors of orange, rosemary, basil and is absolutely healthy.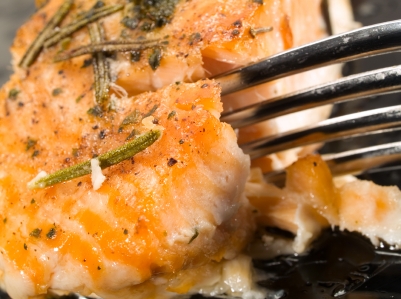 Ingredients
Salmon fillets

2

Orange juice

1⁄2 Cup (8 tbs)

Orange zest

2 Tablespoon

Garlic

2 Clove (10 gm)

, minced

Salt

To Taste

Basil

1 Tablespoon

Black pepper

1⁄2 Teaspoon

, crushed

Rosemary

1⁄2 Tablespoon
Nutrition Facts
Serving size
Calories 234 Calories from Fat 51
% Daily Value*
Total Fat 6 g8.7%
Saturated Fat 0.98 g4.9%
Trans Fat 0 g
Cholesterol 78 mg
Sodium 298 mg12.4%
Total Carbohydrates 14 g4.5%
Dietary Fiber 2.8 g11.2%
Sugars 5.3 g
Protein 31 g62.8%
Vitamin A 17.4% Vitamin C 92.3%
Calcium 9% Iron 13%
*Based on a 2000 Calorie diet
Directions
Combine all the ingredients for the marinade in a bowl. Add the salmon. Let marinade for an hour so that the fish fillets take in the flavors fully. Place in a baking dish (greased with some olive oil or any other cooking oil). Bake in a pre-heated oven for 30-40 minutes. Take out and sprinkle with fresh parsley. Enjoy!!
Hey there! Looking at the recipe, it should preferably be 375 degrees F (190 degrees C), I believe. However, just get it cross-checked! Thanks
Posted on:
14 March 2011 - 10:19pm

Anonymous says :
I was baffled their was no oven temperture given?????
Posted on:
14 March 2011 - 6:38pm