»

Recipes

»

Salmon

»

Hot And Sour Baked Salmon
Hot And Sour Baked Salmon Recipe
This easy to make baked salmon is absolutely wonderful as it combines the irresistible flavors of lemon, herbs and is baked with butter. A must try for all you hardcore seafood fans.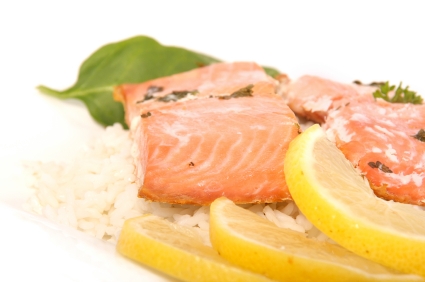 Ingredients
Salmon fillets

2

Salt

To Taste

Crushed black pepper

1⁄2 Teaspoon

Butter

1⁄2 Cup (8 tbs)

(1 stick)

Lemon zest

1 Teaspoon

Lemon

1⁄2

, juiced

Tabasco sauce

2 Dash

(adjust quantity as per taste)

Olive oil

1⁄2 Teaspoon
Nutrition Facts
Serving size
Calories 596 Calories from Fat 460
% Daily Value*
Total Fat 52 g80.2%
Saturated Fat 29.9 g149.6%
Trans Fat 0 g
Cholesterol 198.9 mg
Sodium 303.6 mg12.7%
Total Carbohydrates 3 g0.9%
Dietary Fiber 1.3 g5.1%
Sugars 0.1 g
Protein 31 g61.5%
Vitamin A 31.9% Vitamin C 24.4%
Calcium 5.1% Iron 9.2%
*Based on a 2000 Calorie diet
Directions
Marinade the salmon with salt, pepper, lemon zest, lemon juice and Tabasco sauce. Let marinate for half an hour. Take a foil (enough to nicely cover and wrap the fish) and brush with the olive oil. Add the stick of butter and the fish fillets. Cover and bake at 200 degrees for 30-35 minutes. Take out and serve.